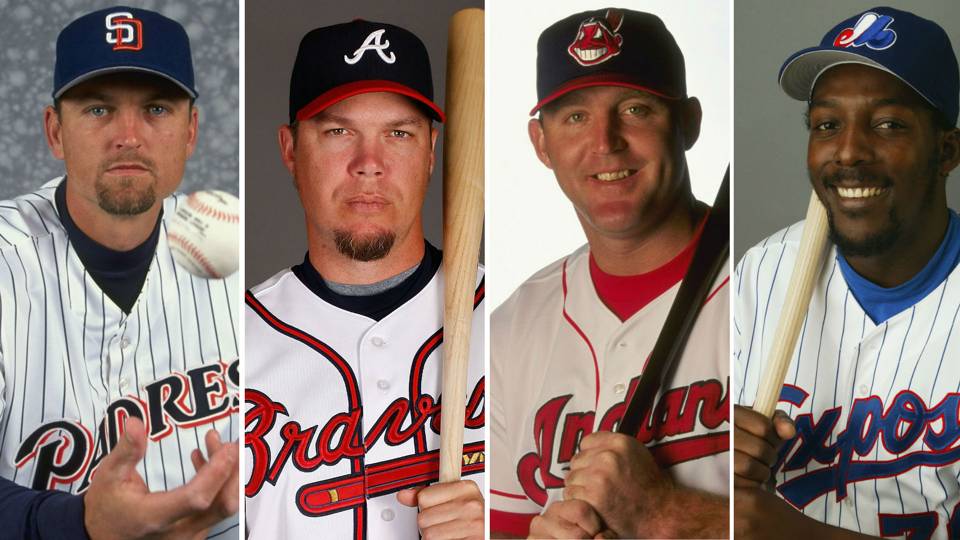 Congratulations to Trevor Hoffman, Jim Thome, Vladimir Guerrero, and Chipper Jones for being inducted to the Hall of Fame! They are definitely deserving of the honor.
It is cool for me because we are now getting into the players who were rookies when I was a youngster. I think I mentioned that back when I wrote about Griffey.
I remember Chipper Jones coming up as a rookie, or at least always getting those top prospect cards for him back during my baseball card collecting days. Once he finally made his debut, there was no looking back. He just seemed like he was always there and always just really awesome.
One of my favorite moments was seeing his final games. He played for the Braves and no Pirates fan can like him…but come on. How could you not? He is one of those last old school guys. Played for the Braves his entire career. He just seems like a great guy (maybe he isn't one, maybe he was a jerk, but every story I have ever heard was always positive). And that great career was honored by the people of Pittsburgh. The fans gave him a standing ovation, which just goes to show the kind of player he was.
I think I have mentioned before about how I took a few year break from baseball. The strike really crushed me. I watched baseball in 1995, collected some baseball cards, but as the season came to a close, I realized I just did not love it like I did. It also did not help that Andy Van Slyke was no longer with the Pirates. This was the point where I started following basketball (also started collecting basketball cards) and just stopped watching baseball. So 1996 to 2000. Basically the height of these guys careers. When I came back to the sport (I started watching the 2000 World Series-I did pay attention to the home run chase by McGwire & Sosa), there were all of these awesome players that were unfamiliar to me. It did not take long for them to make an impression on me.
Jim Thome just reminded me of the classic, big power hitter. He just seemed huge (he was 6'4, 250) and it just seemed like it was so easy for him to hit home runs. He is one of those guys though that I never really remember is in the 600 HR club. On the other hand, Vlad was one of the best hitters, especially when it came to swinging at pitches that were definitely not strikes. He just always looked like he should not be very good and yet, he was incredible to watch. And then there was Trevor Hoffman. Aside from being one of the greatest closers of all time, he is also responsible for closers having entrance music, which I think we can all agree, is a pretty HOF worthy achievement.
Guess who did not make it to the HOF? Barry Bonds & Roger Clemens. Yep, two of the greatest players of all-time are still hovering around 57%. I realize that they cheated. I get that their careers are tainted because of it. I mean, both of them would have made it to the HOF most likely for the first half of their careers. If Bonds retired after the 1998 season: 411 HRs/445 SBs/.290 AVG/.411 OBP. I feel like that would have been enough. Maybe not first ballot or anything, but definitely receives enough votes. Same goes for Clemens, if he retires after 1998: 233 Wins/3153 Ks/114 Complete Games (44 shutouts)/2.95 ERA.
Look, the hall of fame is a museum. It honors the players and the eras of the sport. I think you have to put the best players in and those two were definitely the best of their era. I think you mention somewhere that they played during the Steroid Era, when players were not tested and MLB turned a blind eye towards the use of performance enhancing drugs. They discuss the Dead Ball Era and how players did not hit nearly the home runs. They mention integration and how it changed the sport. And before anyone says anything, I realize that taking PEDs is a personal choice, whereas these other eras were equipment/the times we lived in, or whatever. That is why I think it should be mentioned that they were caught using PEDs at some point in their career on their plaque. I think putting those two in, with that caveat, would allow the Steroid Era to finally come to an end. Or they will wait years down the road and put them in by way of the committees. At some point, both players will be in, the question is do we want them in now or wait until they are really old (and every year we have to have this discussion).