I felt that one of the most important things for my wedding outfit was the tie. I wanted to find ties that would look like something I normally wear. I also wanted it to somehow incorporate the colors of our wedding (mint, coral, and navy). Do you think I could find those color combinations on any ties? I searched at least five different sites and looked at probably 5,000 ties (not an exaggeration, I spent a few hours and on some of the sites I was up to page 150).
Then I found this site called Knotty Tie Co. and did a quick look around. It sounded what I was looking for, custom made ties. However, I was a bit weary of the price. My guess was a custom tie would cost somewhere around $100, but I decided to send them a request because the site says you get a free quote.
I immediately received a response from Nick, who asked a few questions and then sent me a few different designs. I liked them, but none of them really stood out, I told him which one I was leaning towards and he sent me back a few more designs that were similar to what I said I like in a tie. One of them was perfect, it was exactly what I was envisioning.
I then asked if he could do something similar for the groom's tie. Same pattern, but maybe just gray, to distinguish me from the rest. He sent me the look, but Lindsey pointed out that since my suit was tan that it might not look right. I told Nick that and he came up with a great solution.
As you can see, different shades of the navy really tie (hahahaha) it with the groomsmen ties. Now, I am sure you are wondering about price. The ties were only $45 each. I know that some of you may think of this as expensive, but most of the sites I found were around $35. If you go to Macy's, you can pay $50-$60 for their ties. And these are not just your standard ties, these are hand-made organic cotton ties. Definitely worth every penny.
Another cool thing about Knotty Tie Co. is the way they sent the ties. I was just expecting them to be in a box, probably wrapped in plastic or something.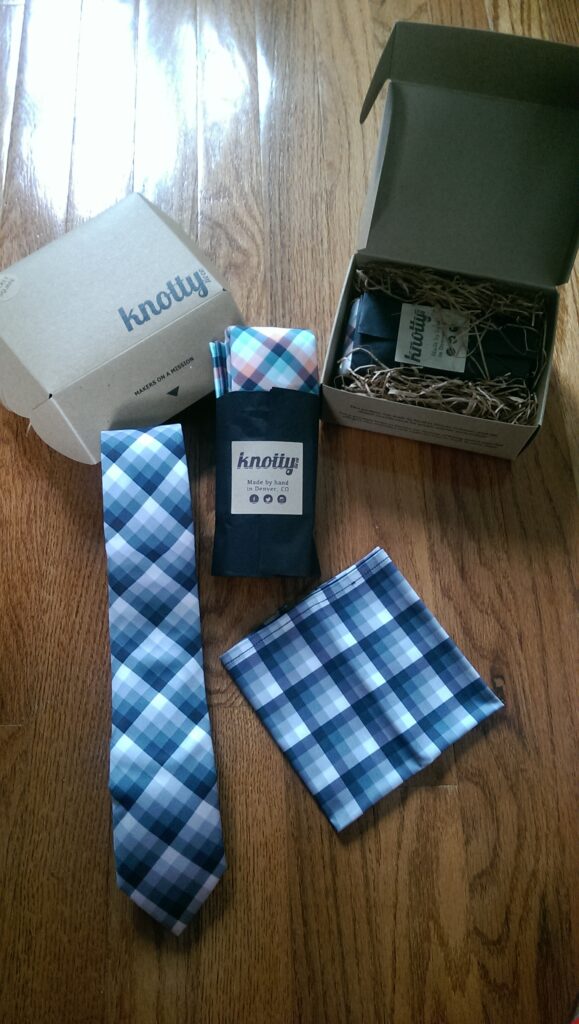 I decided to add the pocket squares because, well why not? They look awesome. Those are only for the dads and myself though, since we are the only ones wearing jackets.
I cannot praise Knotty Tie enough. If you are getting married, have a special function to attend, or just want the perfect tie, then you should definitely check them out. You will not be disappointed.