Congratulations Ryan on another championship. Damn it, he is like the freakin' Yankees. My team decided to not hit at all Monday through Thursday, then they tried to make a valiant comeback, but to no avail. That is why you play the entire week.
Chris Davis and George Springer were my best hitters this week. In fact, it looks like Springer decided to carry the Astros into the playoffs by putting up a 6/2/4/1/.481/.548 line. You know, the way he played these last few weeks makes me wonder if I should hang on to him for next season. I will get to all that stuff in a second though.
Pitching was a little difficult. The problem with having good pitchers from good teams is that you never know when they might get a final game off before the playoffs. Or a great pitcher on a bad team could be shut down because of a sore elbow just as a precautionary measure. Ryan and I were both playing the pick up probable pitchers each morning. He won that battle, probably because the one day, all the guys I picked up had their games rained out and Yahoo did not really update the probable starters until it was too late.
How did the rest of the league fare? Well, Adam2 defeated Gideon for third place, so congratulations to him as well for his fantastic fight in the playoffs. Jason defeated Dustin for seventh place and Offord beat Lindsey for the ninth spot. This brings me to an interesting question. How should we do the draft for next season? Should Lindsey get the first pick (once the keepers are over) and then Offord, and so on. OR should we go by regular season standings? Which is the more fair? I think the final playoff standings make the most sense, but I could see some people arguing that maybe some folks tanked in the playoffs in order to get a better draft place.
The next problem I have is who to keep for next season. I am thinking of keeping Kris Bryant, Chris Davis, and George Springer. Allow me to explain. Bryant had a tremendous rookie season and I definitely think he is going to be a top ten hitter next year. Davis is someone that I would have had doubts about when I traded for him, but his second half of the season has been so good that if he is even close to that production next season then I have another top ten. Springer just has so much upside. I have been encouraged by his bat since returning from his injury.
I know what many of you are thinking and yes, this would be the first year when I do not save pitching. My thought on this is that there should still be a bunch of great pitchers available in the first few non-keeper rounds. I can then use my first three picks for pitching. Think about it, Ryan alone will have to get rid of one of these guys: Gerrit Cole, Jon Lester, Adam Wainwright, and Corey Kluber. Something tells me Ryan will end up keeping McCutchen, Trout, and Stanton (giving him the best outfield ever).
Speaking of keepers, I will set up the league to renew and want keepers finalized sometime in February. I know everyone likes to wait until trades are done and spring training is over to see if anyone gets injured. Sadly though, that means I end up being stressed out trying to get the keepers plugged in the day before the draft and everyone starts sending me texts saying "hey, can I keep XXXX instead of YYYYY." Can we try to avoid that this year? I want this to go a little bit more smoothly. Also, I have another person who could join the league, which means we would need one more person, which would be great to get to 12.
I do have some good news about another league that Pat runs, which Offord, Jason, and I participate. I was the league champion. I dominated the regular season and then squeaked by each week in the playoffs. This is my first championship and I am quite proud of it.
Oh and one last thing. I went back and updated the history of the league. Back then I was the fourth best out of us core five. Now though, I have moved it on up to third and I think after another season will over take Gideon.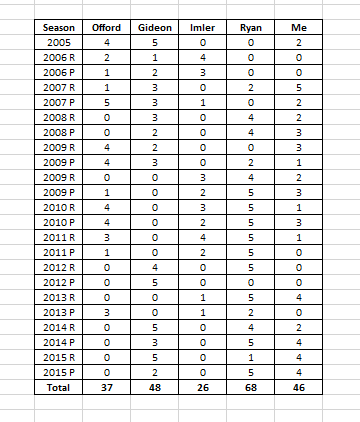 Jason and Offord have really had a rough go of it these last few years. It looks like it is time for them to rise up and help me bring Ryan down. Obviously I am doing a terrible job of defeating him.