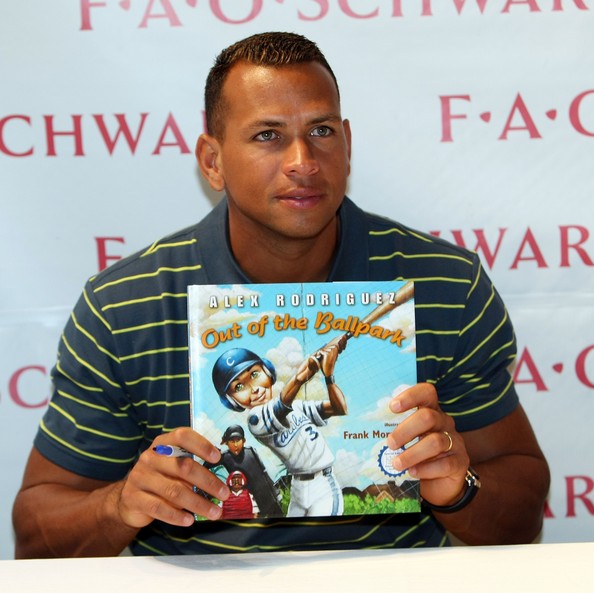 After much waiting, the fantasy draft has come and gone. This year was a little bit chaotic. Allow me to tell a quick story before I get into the actual draft stuff. When I scheduled the draft, I figured it would go something like this:  we draft at 8:30, that gives Lindsey enough time to feed Payton at 9:30 (the draft would be winding down around then, I could probably do her last few picks or she could auto-draft) and put her to bed. I never factored in work. Lindsey had to work third shift. Which means she had to take a nap, then get ready. Which means, I would have to do all of the bedtime stuff. To top things off, tonight was Payton's bath night. So, I gave her a bath before the draft started. Once it started, we both drafted while Payton laid on the bed. Lindsey started getting ready at close to 9:00 though, so she gave me her phone and I tried to draft for her. I thought it would be easy, her strategy is fairly simple. Just keep taking the best players available to fill in the positions you need. Seems simple enough, right? Yeah, it sucked. Plus, to top it off, something was wrong with Payton tonight. She is never fussy before bed and yet tonight, she screamed bloody murder. So try drafting for two people, feeding a baby, and then reading a story. Needless to say, the second half of the draft was a disaster for me.
Okay, so a quick reminder as to the teams…
Immortan Offord-Offord
JoshsLilPuigWentHome-Ryan
Ball So Hard Inc.-Matt
There is no Spoon-Gideon
I Like El Coffee & T-Sean
Hey I'm Andrew!-Me
SeattleTemplePilots-Lindsey
Kerning 2 love again-Jason
InsertFunnyNameHere-James
Roscoe G Cole Train-Pat
VeniVidiVici-Dustin
rey de ponches-Adam2
Hopefully some of these guys change their names, since they have been rocking them for a few years. Lindsey's team name actually changed to FreddieFree(man)Bird. Since she has Freddie Freeman and Greg Bird, plus it is a song by Lynyrd Skynyrd. That means that each time she wins, you get to hear a version of the classic song! Okay, onto the draft…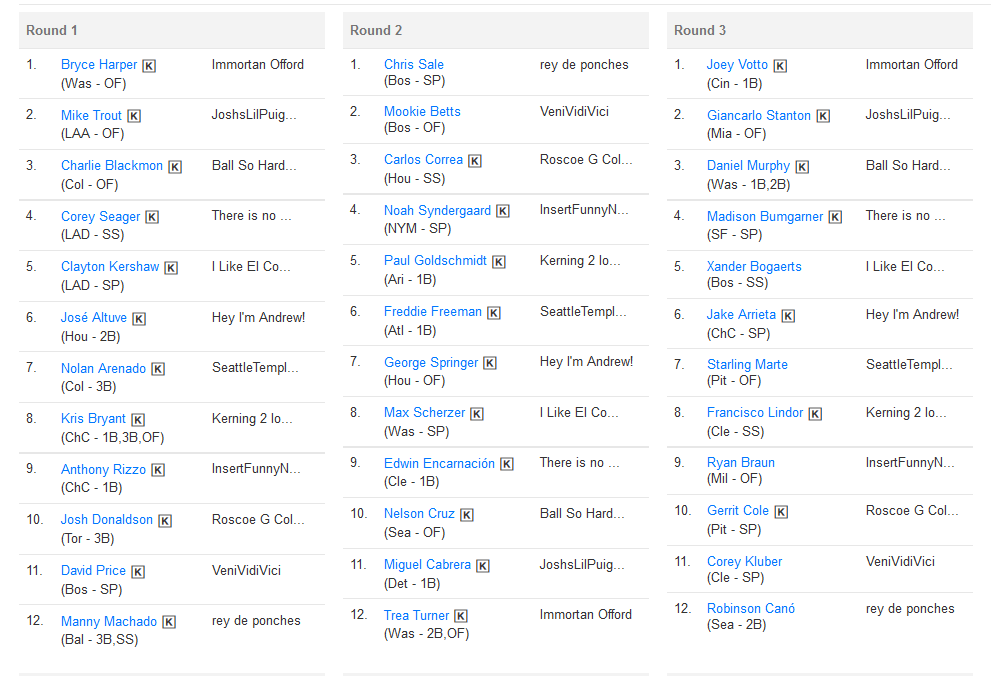 The first three rounds was the keepers. As I mentioned back in that post, Dustin did not keep Mookie Betts. I assumed that since Adam2 had the first actual pick (round 2, pick 1), that he would select Betts. But no, he takes Chris Sale, which totally threw me off. Then Dustin takes Mookie. Not sure what to make of that decision.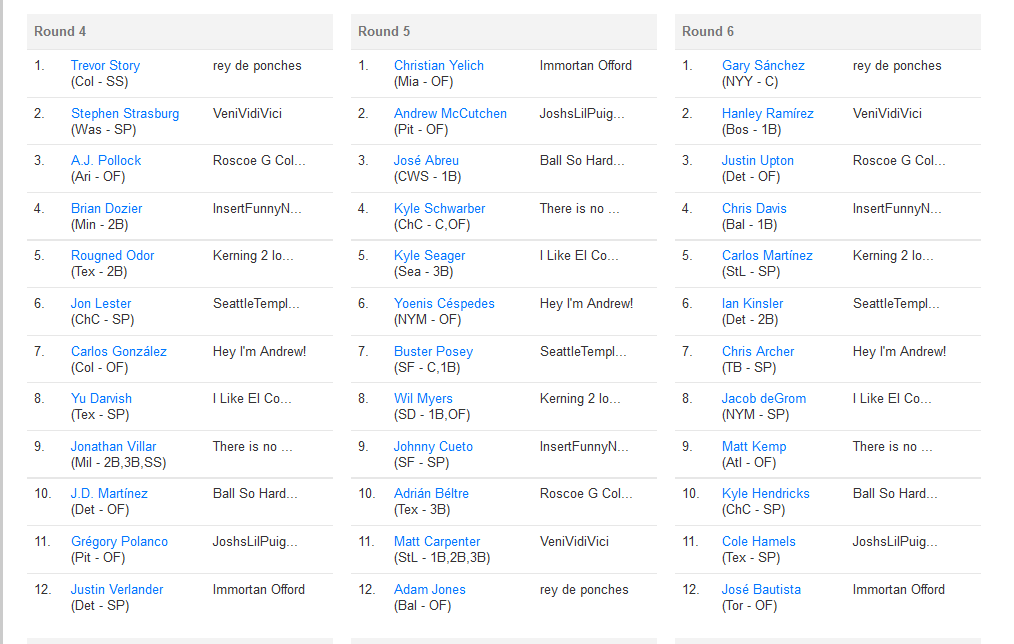 I looked at my options at the sixth spot and I narrowed it down to Odor, Lester, Darvish, Gonzalez. Jason took Odor, which made my decision easy. Had he been there, it would have been hard to pass up. Lindsey took Lester and that was when I made my decision: strong outfield. I took CarGo and then Cespedes. I do not think I have ever had a strong outfield. I always go pitching in the first rounds and this year, decided to change things up. It was a huge toss up between Archer and deGrom. I chose Archer because of the strikeouts and because I feel like he should pitch well enough to get out of Tampa Bay, where he can rack up more wins.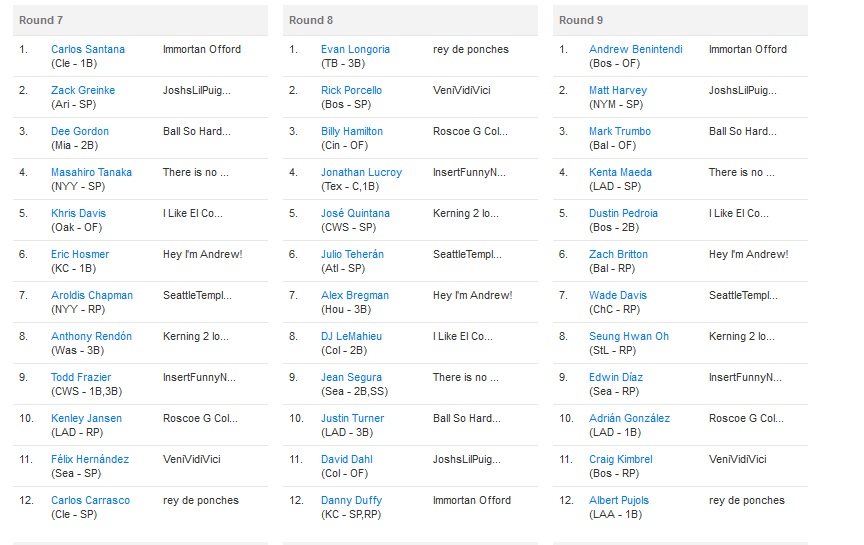 Round 7 was probably my toughest decision. I needed a first baseman. Eric Hosmer was available and he was definitely the best 1B left. However, Chapman was the best available player and it was really hard to turn down those saves. I passed on him and Lindsey scarfed Chapman right up. She probably heard me muttering to myself. I am proud of the Bregman pick. I went down a little to get him, but I honestly think he has a great year. Watching him in the WBC, he just seems to have great at-bats. His numbers started off so bad when he was called up that it really diminishes his overall numbers, but once he adjusted last year…damn, he was pretty good. Offord reached way down for Andrew Benintendi, and he thought I was mocking him for it. I think they had him going in round 11 and my plan was to take him in 10. I definitely love the risk/reward move there. I debated over Britton or Davis. I figured that both are good picks, so it would not matter. I could see Davis ending up with more saves than they are projecting though, since the Cubs will probably win 180 games this year or something.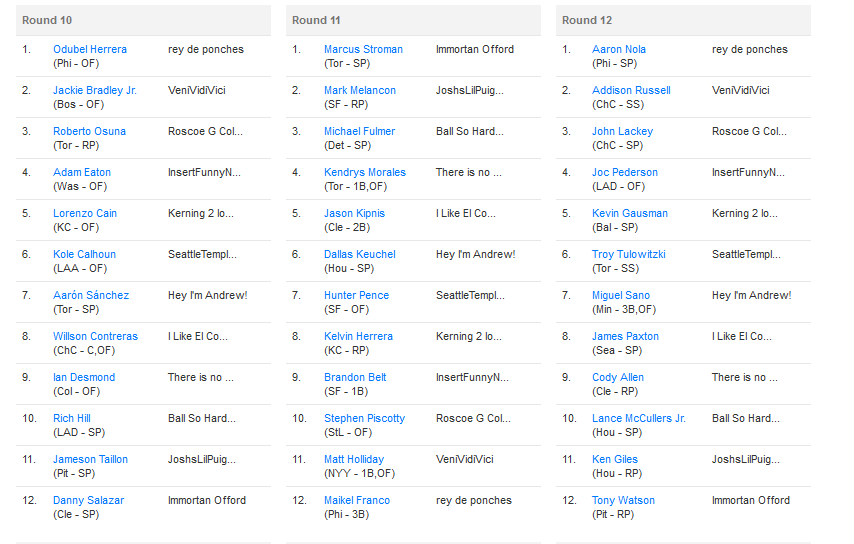 This is where things started to go wrong. Lindsey started getting ready. It was not time for Payton's bottle, but she was screaming. I was holding her and trying to draft two teams at once. I do not know how I feel about drafting Sancez (should I have went for Taillon?). I was honestly planning on taking Contreras since I was empty at catcher, but whatever. I could have been a dick this round and made sure I got the players I wanted. For example, Tulowitzki was my plan for a SS. But, that was a position that Lindsey had no one yet and so in that round, I took the best available. I took Sano because…not really sure. I guess as a utility guy, that is a solid HR guy. Hopefully he hits for a little more average though. I hope Dallas Keuchel can have a bounce back year…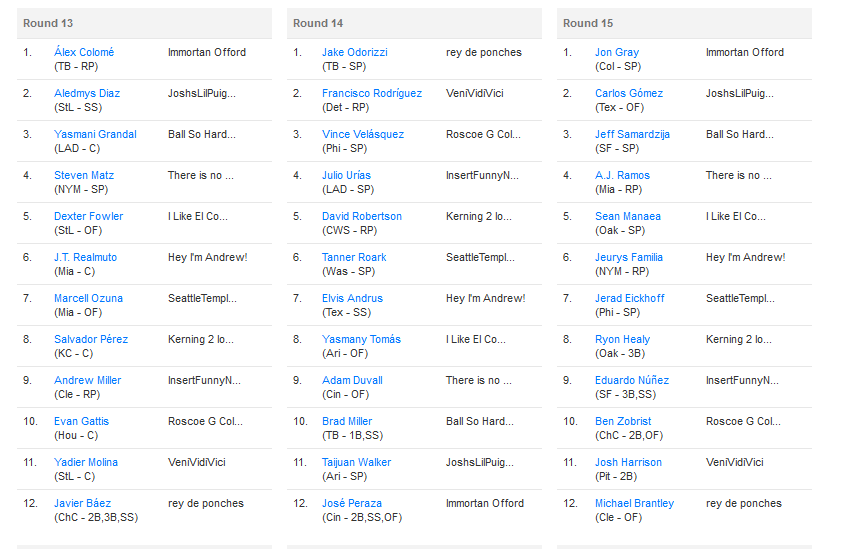 This was feeding time. Realmuto? I know very little about the guy, I hope he can be a solid catcher. I hate having Andrus. I should have taken Brad Miller or Javier Baez in the previous round. Familia? I do not even remember drafting him. Is he even going to be playing this year or will he be suspended? UGH!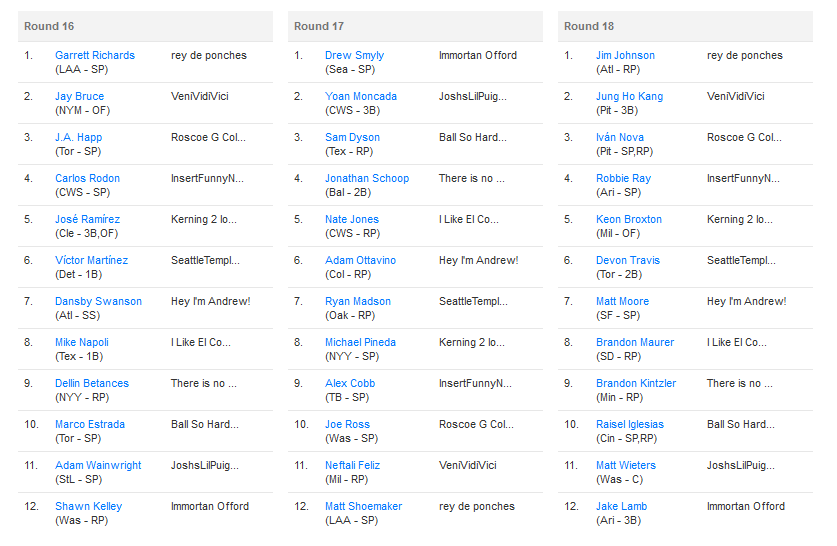 I liked my Swanson pick. I think he will be good. Lindsey was out of the shower and able to answer when I said "hey, it's your turn." I actually like her drafting here. Better than mine. V-Mart, Madson, Travis? What was I thinking with Ottavino and Moore?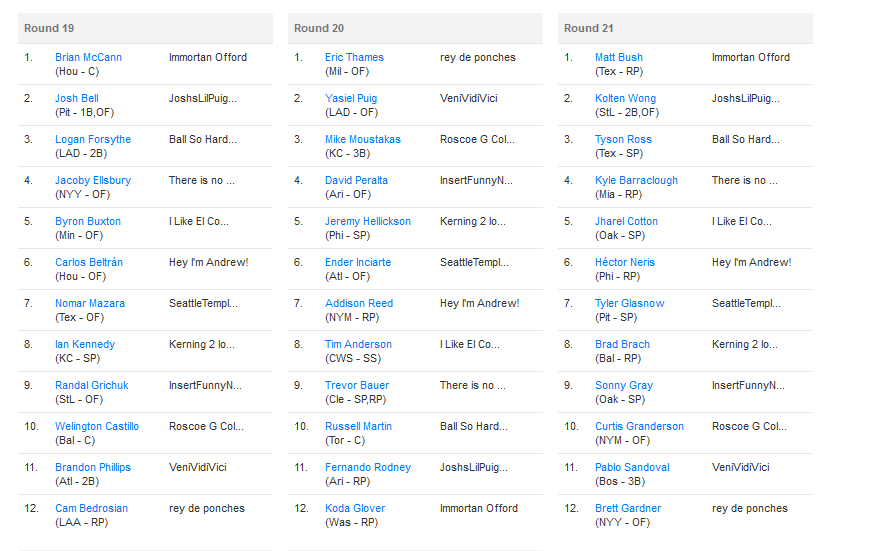 I have Carlos Beltran? Not terrible, but I mean…why? I could have taken Moustakas (I think he turns into the hitter people always imagined he'd be this year) or Inciarte. If you thought shit was bad before…wait until you see this crapfest that comes along. So many pitchers.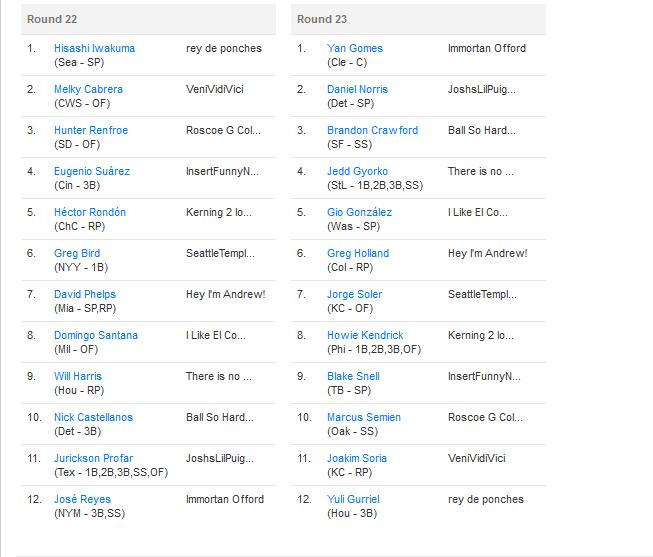 I am not saying they are bad pitchers or anything. But they are just pitchers. I did not need my last five out of seven picks to be relievers. I love that Ryan took Profar in the next to last round. I think his rookie year (which was like 2012, even though he is still only 22 years old or something), Jason drafted him in the second round (this is not even remotely true…I just looked, it was 2014 and Jason drafted him in the 15th round).
I will not lie to you. I do not think my team is very good. I need to reevaluate this thing over the next few days and consider what options I have.
Good luck this season to everyone!
Oh and if you are wondering why there is a picture of Alex Rodriguez holding a children's book from 2007, well that was the first year I ever wrote about my fantasy baseball draft. Ten years ago! I have written way too much about fantasy baseball. Guess who was my first round pick that year? Yep, A-Rod.