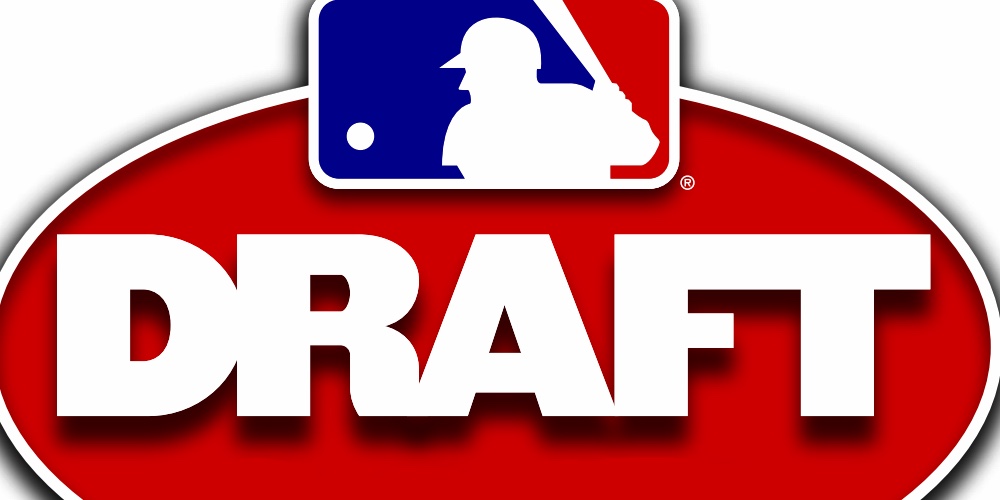 I hate my friends. Not really, but they know me so well. It all started with a discussion about whether or not we thought Neal Huntington would get a good return for McCutchen/Cole/Harrison. I pointed out that trades have never been his strong point and Ryan countered that drafting is Neal's strength. However, I wrote about his drafting strategy a few years ago and one of the things I noticed was that not too many of his guys have panned out. Ryan and Offord joked (egged me on) to come up with a way to grade the drafting process. I thought, "haha guys, nice try!" I then started looking up draft grades for each year, but I noticed something weird. All the things I could find take the draft and then subsequent trades into consideration. For example, if you look at the White Sox, they drafted Chris Sale, then flipped him for Moncada and Kopech (two other prospects as well). But to me, that is not your drafting skill. That is your trading skill, right? So I decided to think of this in terms of a job review.
This is going to be a very long post. I apologize in advance. Blame Ryan & Offord for putting this idea into my head
I would imagine on a baseball GM's review, there are multiple sections. One of those sections is talent acquisition. And I would then break that up into different subsections: trades, free agents, drafting, international signings, and miscellaneous (those are your waiver wire pick ups, Rule 5 guys, etc). So for this review, we are only looking at the drafting portion. There are a few things you need to remember about the draft.
The baseball draft is enormous! 40 rounds, over 1200 players drafted.
If a draftee makes it to the majors, that is considered a success. That is how incredibly difficult it is to get to the big leagues. Just making it for one fleeting moment is considered by many people to be a positive draft choice. Again, imagine that in football, if you just one time got to dress for one game after being drafted. And people said "well that was a wise draft choice."
The talent pool is obviously much larger than the other sports. You have high school kids (who are also being scouted for college) and college players. Plus, you have Puerto Rico and Canada to monitor as well. Those players would not fall into the international drafting. NFL teams do not have to do nearly as much scouting as baseball.
Now that we have a little information about the size of the draft out of the way, we need to look at my methodology.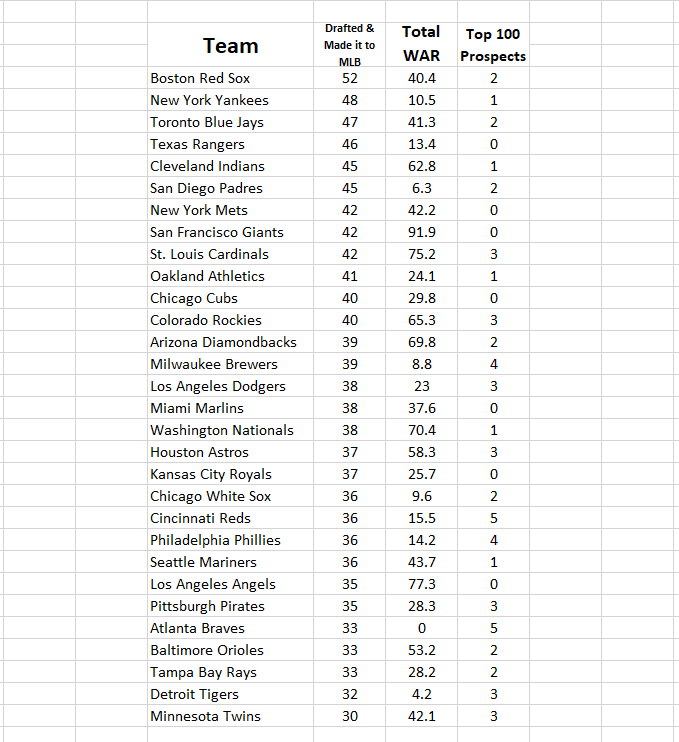 I only looked at 2008-2017, since those are the years NH has been with the Pirates. I started by looking at each team for each of those years and counting up the number of players who actually made it to the majors. After that I looked at the first round. One of the things I discovered during my research is that first rounders have a very high probability of making the majors (somewhere between 65-75%, sometimes higher). The second round is somewhere around 50%, and after that it gets much lower. So I figured, a good GM has to be pretty good at hitting on his first round picks. Next I looked at the guys on each team's current (2017 final roster) and who was drafted by that team. I then added up the total career WAR for each team. That is a simplified version of what I did. Now I need to break it down and give you the results.
Part 1: "The Show"
I should probably mention a few things. Obviously 2008 has the most players who made it to the majors (252) and each year it goes down a little bit. After 2012, the numbers become much lower (2016 & 2017 have zero players in the big leagues yet). As you can see from the chart, the Red Sox lead the league in players drafted that have made it. The Padres had the most make it from one year, 16 from the 2008 draft.
One thing I should mention though, this does count players who were drafted, but did not sign. For example, the Pirates have one player from the 2014 draft, but that player was Paul DeJong (who is also the Cardinals 2015 player). But I figure that in this case, if you drafted someone and they did not sign, you still saw the potential in them and that is a positive.
Since there are no players from the last two drafts and only 10 players from 2015, I figured I should look at number of Top 100 Prospects each team drafted. I decided to use the MLB Top 100 since…well it was the most up to date and it was free. I figure that guys who are in the top hundred should have a pretty good shot of making the majors. One big problem with prospect lists though: guys fall off over time if they are not lighting it up. For example: 2013 has seen 89 players called up, but only 11 players on the Top 100 list. There are only four draftees from 2012 still on the list. Also, some players do double dip, maybe they came up for a short stint last year and are still considered a top prospect (Christian Arroyo).
The Pirates have had 35 players make it to the majors during Neal's tenure. As I mentioned in that earlier drafting post, his strategy early on was to take as many big, hard-throwing high school pitchers as he could and hope that one or two of them would develop. It did not work the way he wanted it to and it appears that he has changed tactics the past few years.
Part Two: The First Round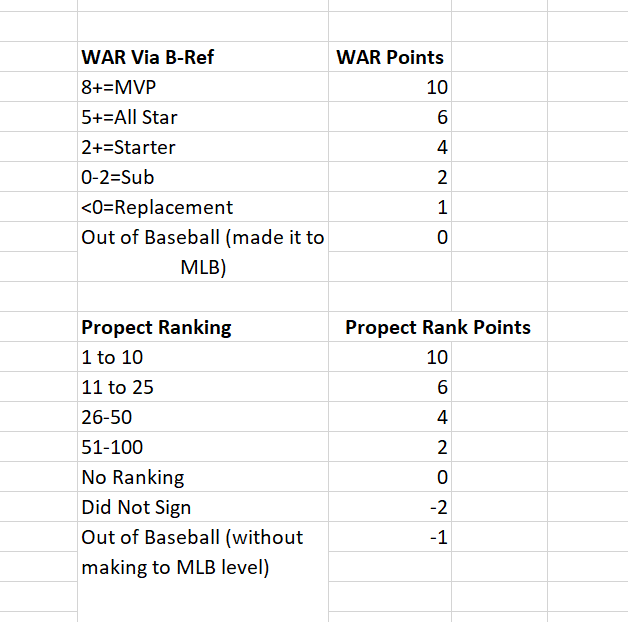 After reading a bunch about drafting and looking up tons of different draft years, I came to a pretty solid conclusion: you have to get your first round pick right. Drafting a dud is pretty much unacceptable. 79% of the first rounders from the 1994 draft made it to the majors. As I said earlier, the numbers are pretty much somewhere around 65-75% (even higher when you take the supplemental picks out of the first round and make it the standard one per team, but that is beside point).
I looked at every team's first round pick (if they had multiple first round picks in a year, then I went with the highest pick). I looked at whether or not a player signed, then I looked to see if they were still in baseball. After that, I checked to see what was their highest WAR season. I know, I have ranted against WAR before, but for the purpose of comparing a ton of players and having a nice, easy value to look it, well it was the best thing available (I used B-Ref's WAR, if that matters to anyone). If they had not made it up yet, I then looked to see if they were on the Top 100 Prospect list.
If a player was out of baseball (without making it to the majors) or they did not sign, I assigned that a negative value. I figured that if you drafted someone in the first round, you should have done your homework to figure out whether or not they were able to be signed. And if they did not make it to the majors and ended up getting out of baseball (some guys just give it up, some get hurt), you got hit with a negative too, just because I feel that you could have drafted someone else in that spot and at least had someone successful. For example: the Padres drafted Donavan Tate with the third pick in the 2009 draft. He quit baseball a few years later and went to the University of Arizona this year to play football as a quarterback. Unfortunately for him, his brother ended up beating him out for the starting job, so now he has transferred to a school back in Georgia. The 2009 draft is definitely a weird one, especially for the first round. You have two absolute superstars (Stephen Strasburg #1 and Mike Trout #25), but 2-5: Dustin Ackley, Tate, Tony Sanchez, and Matt Hobgood. Tate & Hobgood never made it to the bigs and are out of the sport. Sanchez, well he had one season of positive WAR (.1), but since then…not very good. Ackley was definitely a bust (although, at least he was drafted in a proper spot, some people thought he was worthy of #1 pre-draft, Sanchez was always considered a end of the first round, beginning of the second guy).
The point system was a little hard to come up with since prospects do not really equate actual major league talent. Is Mike Trout the same as someone who is a top ten prospect? Obviously not, and being a top ten prospect does not necessarily mean a player will end up being a superstar. But in a way, it was more of a way to reward a GM who drafted someone special/drafted someone who has potential to be special (does that make sense?). Initially I was going to punish a GM for a player being out of baseball after having made it to MLB, but then I realized that would be stupid and not something that was affected by his drafting skill.
I should probably mention that I did cheat a little bit. In 2009, the Angels drafted Randal Grichuk with the 24th pick and Mike Trout with the 25th pick. I decided to use Trout because in my mind it did not matter and he is obviously the better player. Also, another fun fact, the Rays had 10 picks in the first round of the 2011 draft. Another oddity, the Giants drafted not one, but two first previous first rounders that the Blue Jays failed to sign (Tyler Beede & Phil Bickford). Does not mean anything, I just thought it was interesting (or did someone from the Blue Jays get a job for the Giants, maybe a head scout or something?).
So how have the Pirates done in the first round? The columns go: Year, Team, Name, Pick #, Signed, Best WAR, WAR Points, Prospect Rank, Rank Points, With Club.

With my ranking system, they are tenth in first rounders. The Reds and Rockies are the best, followed by the Nationals, Astros, and Twins. Then it goes the A's, Braves, Cubs, and Indians. The Reds are heavily ranked in this method because they hit well with the first few years (Yonder Alonso, Mike Leake, and Yasmani Grandal)–none of who play for the Reds anymore. Their last few drafts have landed them a top ten and top twenty prospect. The Rockies have managed to draft a bunch of solid, 3+ WAR guys, but also one top ten prospect. The Nats, Astros, and Cubs…well they were just really bad for a few years and then drafted some amazing players
Nationals:  Stephen Strasburg (#1 2009), Bryce Harper (#1 2010), and Anthony Rendon (#6 2011)
Astros:  George Springer (#11 2011), Carlos Correa (#1 2012), Alex Bregman (#2 2015)…they also failed to sign Brady Aiken in 2014 (#1), and they drafted Mark Appel #1 in 2013.
Cubs: Javier Baez (#9 2011), Albert Almora (#6 2012), Kris Bryant (#2 2013), Kyle Schwarber (#4 2014), Ian Happ (#9 2015).
I realize that people are going to say "hey Josh, there are always guys who get drafted from a later round, who end up being great!" There are tons of stories, Paul Goldschmidt, Albert Pujols, and probably a thousand others. However, I would not call that great drafting, instead that can either be great development. If you knew that Paul Goldschmidt would turn into the player he is today, would a GM not draft him with his first pick? You get points for drafting him, but basically, after the first round (especially after the second), you are now hoping players develop.
Part Three: The Current Roster
The last thing I looked at was the 2017 roster and I added up the career WAR of each player drafted by that team. For the most part, this shows how different teams rely on the draft. Some teams are heavily loaded with guys they drafted (the Cardinals have 22 players they drafted, whereas the Braves have 3). The Giants lead the pack with drafting some ridiculous talent (how annoying is it that the Pirates took Pedro Alvarez three picks ahead of Buster Posey?). This is also where a GM gets some props for drafting those non-first rounders who have contributed in huge ways. But in all honesty, this really gave me an idea of how different teams use the draft.
The Red Sox have a surprisingly high amount of WAR derived from players they drafted (Betts and Bradley Jr. both came from the 2011 draft), whereas the Yankees have very little. But the Yankees do draft tons of guys who make it to the majors. They just use those players to make trades. The Cardinals look to draft and develop, same with the Mets. Other teams focus on the international signings. Or trading for prospects, or spending tons of money on free agents. Do not mistake me ranking players WAR with how good a team is in the standings. We shall look at that in a second.
This past year, 11 of NH's draftees were on the Pirates roster and have not achieved much in the way of WAR, which puts them in the bottom third.
Part Four: The Final Grade
I then took those three parts and added up all the point values. The first part (players drafted that made it) was weighted the most, whereas the current roster was least. First rounders fall in the middle with their impact. Here are the grades.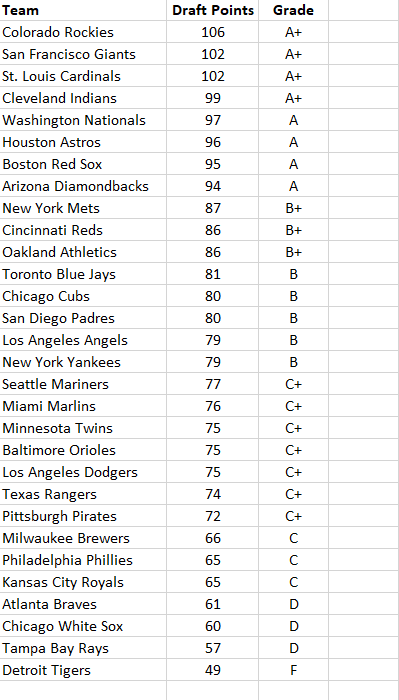 Neal Huntington's drafting sits somewhere around a C+. Hopefully with changes to his drafting strategy (if that is indeed the case), that grade can improve over the next few years. As I said though, does a good draft grade mean much at the end of the day?

Since 2008, the Yankees have the best record and guess what? They only come out as a B. The Rangers and Detroit both have great records during that time and the grade somewhere near the bottom. One thing I can tell you that I discovered through all of this hard work: drafting a hitter in the first round is the way to go. 14 out of the top 20 best WAR seasons from first rounders were from hitters. Think of it this way, in 2010 the Pirates selected Jameson Taillon over Manny Machado. Now imagine Machado having that monster 2015 season with the Pirates, who finished two games behind the Cardinals despite having the second-best record in all of baseball. I am just saying, hitters are the way to go. Too many things can go wrong with a pitcher.
This was a fun project for me. If anyone wants to actually my stupid spreadsheets, well shoot me an email (look, there is no real scientific method for how I assign points, I just try my best). If I had more time, I would probably look at the supplemental picks in the first round, but that would be a ton of work. My thought on that one is that teams that have multiple picks in the first round may try to draft a player who should not go in the first, but has such a high ceiling that they take the risk.
I should also mention the rules changes that have happened during NH's reign. He drafted Josh Bell in the second round of the 2011 draft. Bell sent a letter to every team asking them not to draft him because he was going to Texas to play football. The Pirates ignored that letter and then offered him a signing bonus that was way above the recommended slotted amount. MLB changed the rule after that and now you have the bonus pool money and you can only spend so much above slot.
Before people freak out at me…I am not saying NH is a bad general manager. He does not have much to work with in finances and he seems to be doing the best job he can. But, my point in this was to look at how well he has drafted and it just does not seem to be that great. Maybe his trades or international signings will grade better. Ugh, I think I know my next projects…
Also….damn, why did we draft Tony Sanchez instead of Mike Trout!!!!