I never knew how much work went into a wedding. I figured you bought a bunch of decorations and that was the end of it. Yes, I knew that it was expensive, but I figured that someone else did all the work. I was a bit naive.
This is going to be a very long post. I plan on detailing just about everything. Get over it, what else do you have to do aside from read this post? Exactly, so pour yourself a drink and dive right in.
Seating Chart
Lindsey had an idea for the seating chart. She wanted to use an old door, one with the right amount of glass panes. My mom had an old door at the house. We were going to paint it, but the door was in bad shape, so we just scrapped it. Then she found some window-style picture frames at Kohl's and they were on sale. Unfortunately, we had to travel to like three different stores to find enough since they were discontinued.
Now comes the hard part. We wanted to have them on a table at the reception site standing up, but how could we make them stand up? I had a few elaborate ideas, but then I came up with a pretty simple solution. Each window had a decorative hinge on it. The hinges were functional, so I decided to connect two of the windows that way.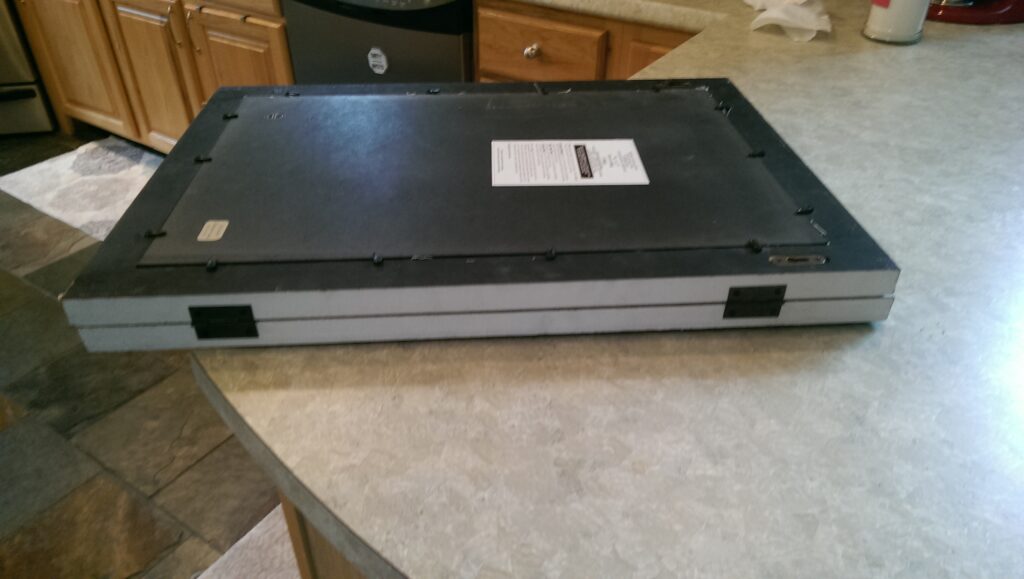 The caterer was a little worried that even like that, they might still fall over if someone bumped them. He said if they were attached to a board, he could drill the board to a table. I went to Lowe's and bought a six foot piece of melamine shelf board. My next conundrum was how to attach the windows. I did not want to screw them in because I wanted to have this all done and read to be set up before the rehearsal. Screwing it together would mean it would take up a huge amount of space in the car. I finally found some dowel pins and figured those would be my best bet. I inserted them into the bottom of the windows, then drilled holes in the board. Worked perfect.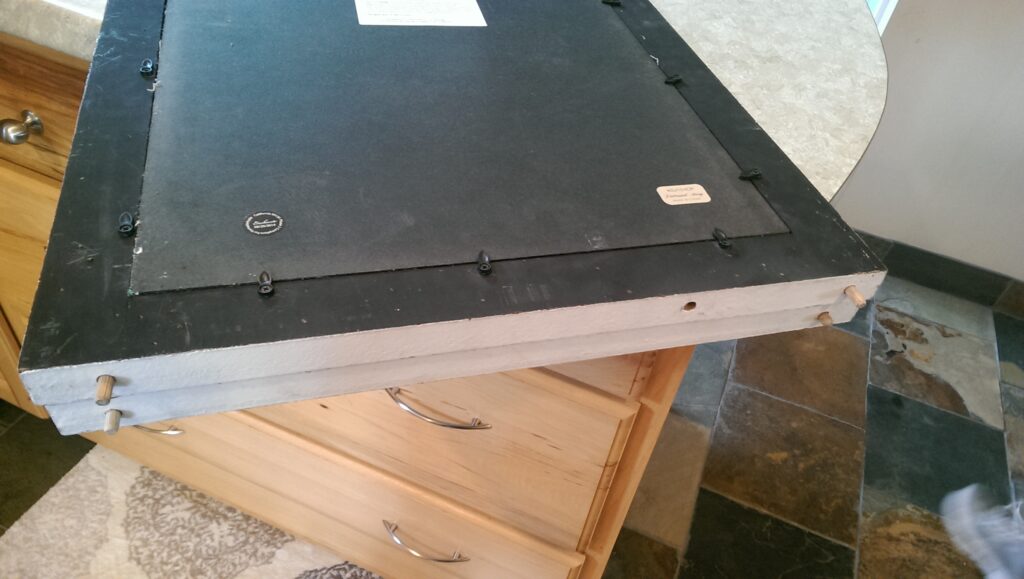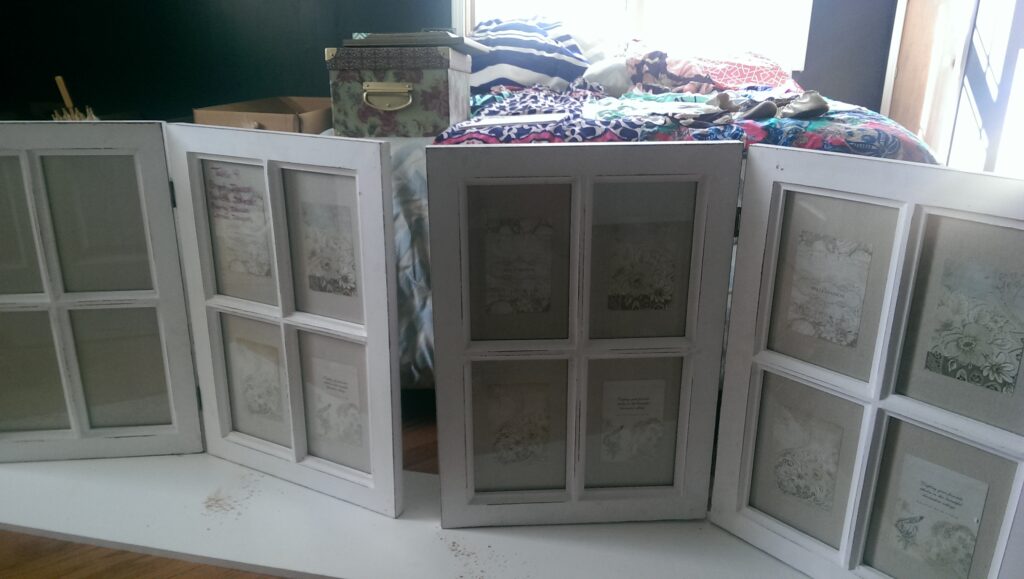 The easy part was over. Now we had to write the names on the glass. I was going to have my brother do it since he has excellent penmanship, but I gave him enough tasks and did not want to overwhelm him. We tried to use a dry erase marker at first to see if Lindsey or I could do it. Our writing sucked.
Then I had a brilliant idea. I measured the size of the writing area and created in Word the exact same size box. I then found a font that I could probably trace with the paint pen. Was it easy? Not at all, but I think the end result came out pretty well.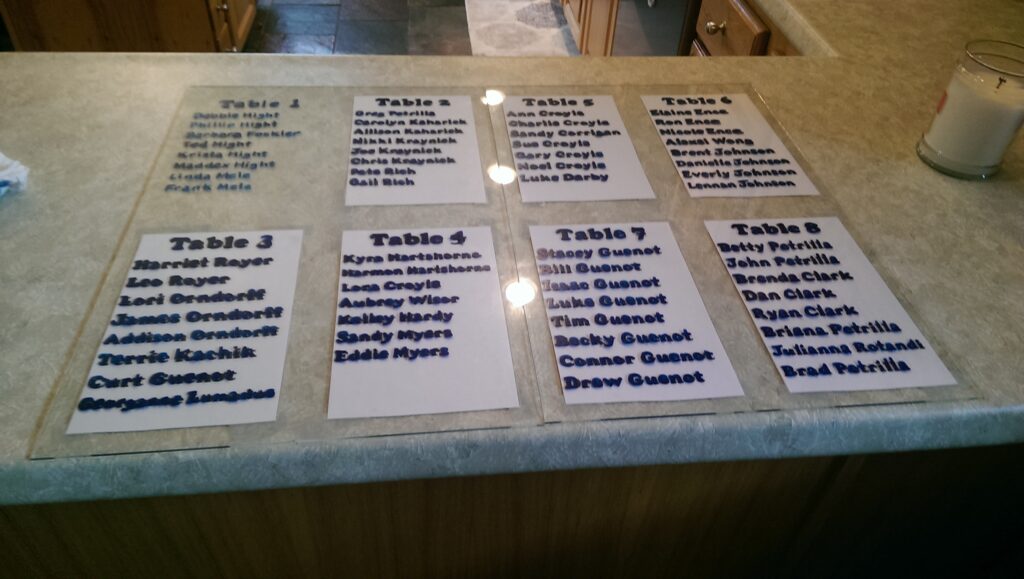 And yes, I realized that I spelled someone's name wrong. Do not worry, I was able to fix it.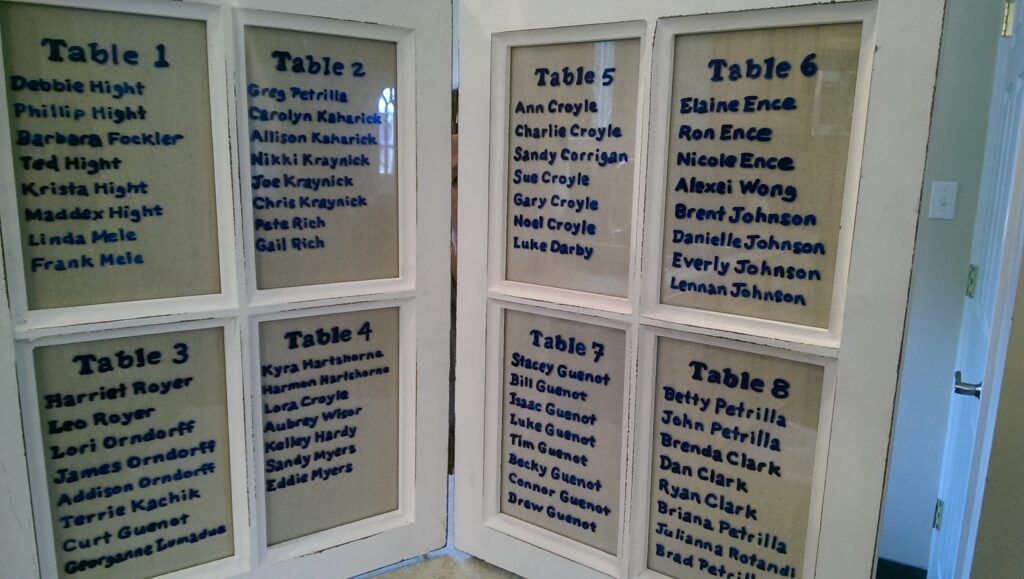 The last window had two panes leftover, so I decided to add in a thank you and our names. It was actually the part I was proud of the most.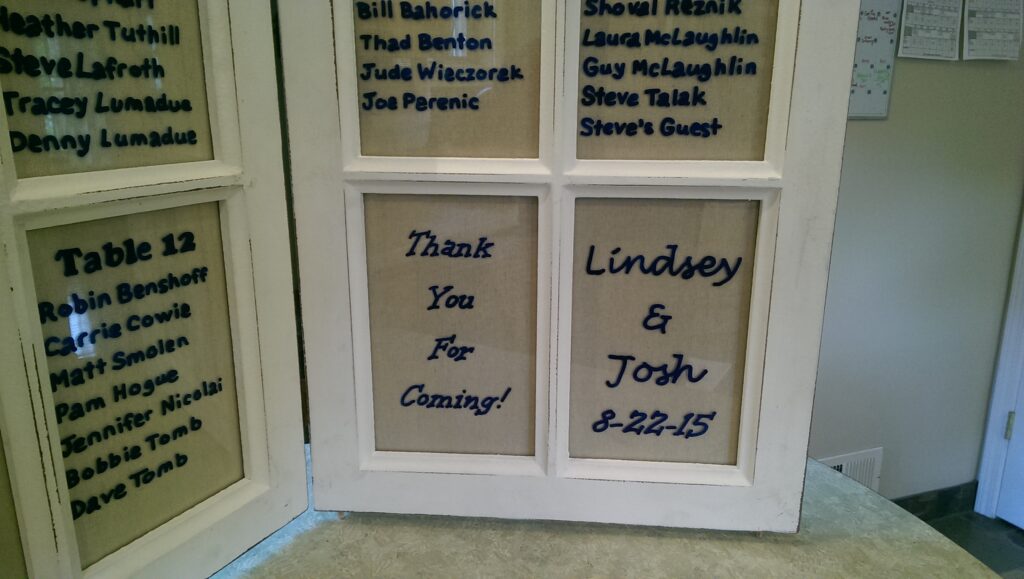 Crates
Lindsey wanted a bunch of wine crates for decoration at the wedding. However, they were expensive. She then found these small crates from somewhere that were pretty cheap. Unfortunately, they were plain. So I was put to work again. I first found a free wedding monogram site.
I then had to find a way to put that onto the crates. I read a few different DIY blogs and discovered wax paper. You print the symbol inverse onto wax paper. First I had to cut sheets of wax paper to match normal paper. Then find a way to get it through the printer without jamming. It was a long process, but once I got it, then it was pretty easy. After that you just lay the wax paper onto the wood, use a credit card to scrape across the paper and then peel it back. Here is the finished product: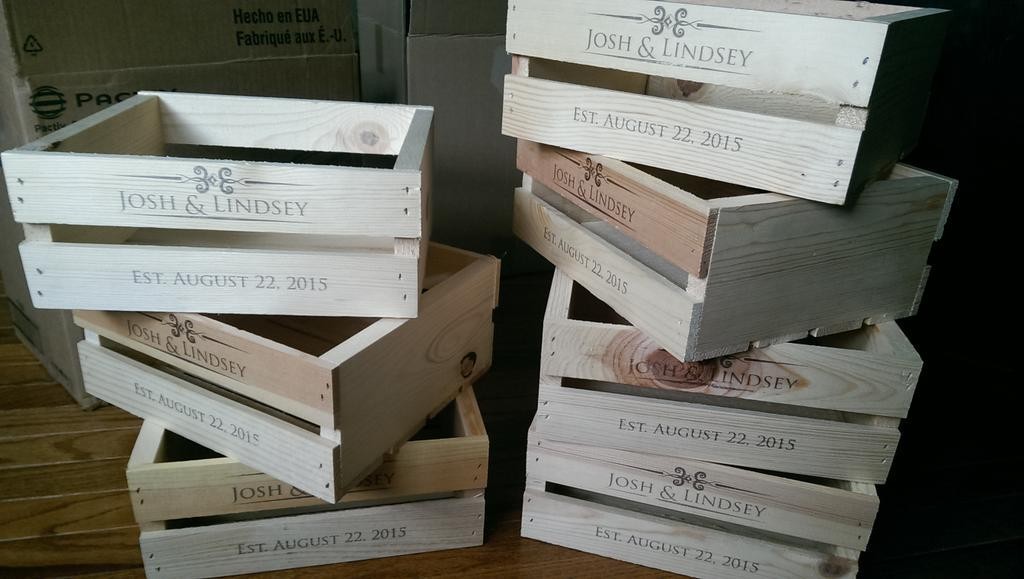 Jammin'
The wedding favors we went with were little jars of jam & jelly from the winery. Naturally just giving someone a jar of the stuff was not enough. We needed to have cute labels on them. So I had to find a fun little jam related saying and then print them onto tiny round labels and stick them to the lid. This was actually pretty easy, but getting the lettering right and making it fit the small circle was a bit tough.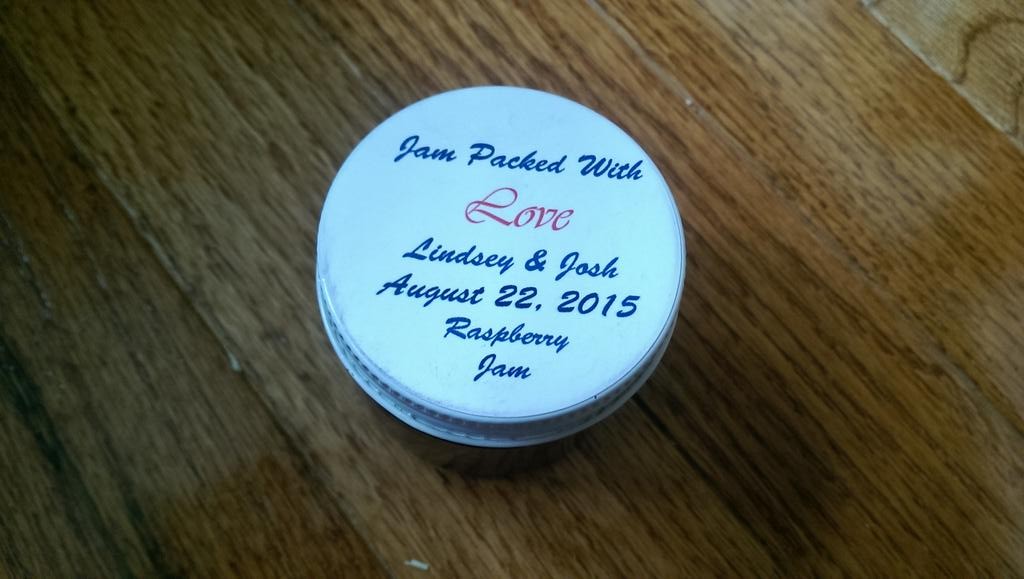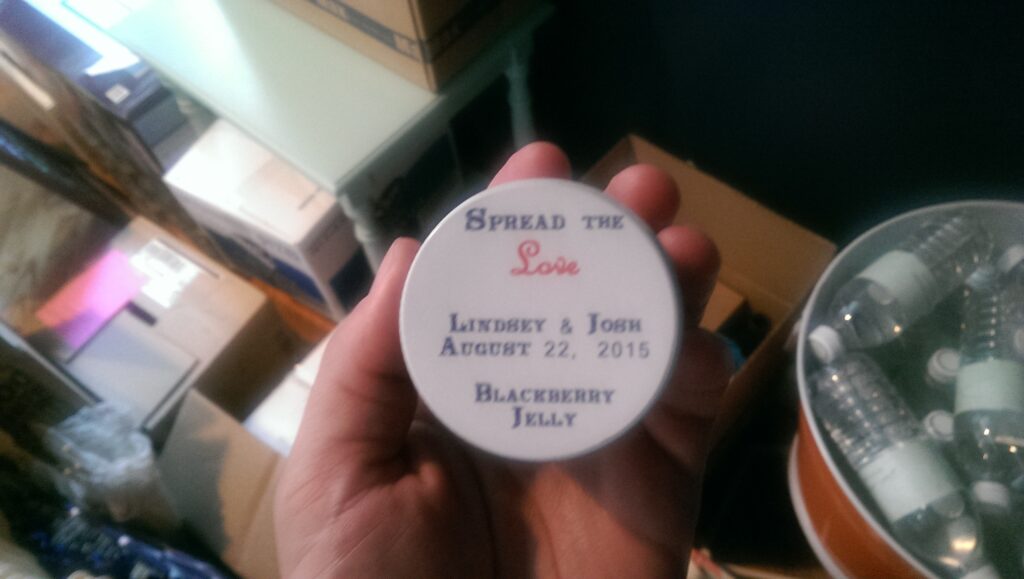 Sign, Sign, Everywhere A Sign…
Lindsey really did worry about everything. What if someone was getting bit by bugs? We need a bug spray basket. We need a bathroom odds & ends basket, we need bottles of water, etc. And for each of these little things, you need a cute sign. So I had to come up with these things. Either find some online (which means perusing thousands of wedding sites) or get creative on my own.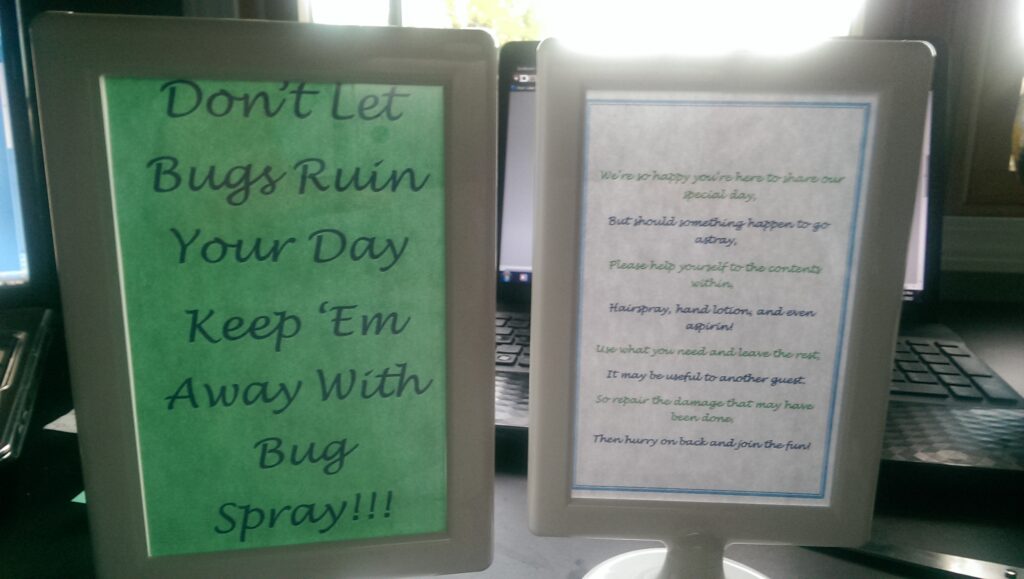 The bug one I came up with on my own. I really wanted some funny pun, but I just was not feeling it the day I did this. I will say that doing this has helped me become much more proficient with Microsoft Word. Using some of those features you never really think about.
I wish I could take credit for the pie sign, but I did find that online. I think for some pie shop somewhere. You really cannot go wrong with a Beatles song.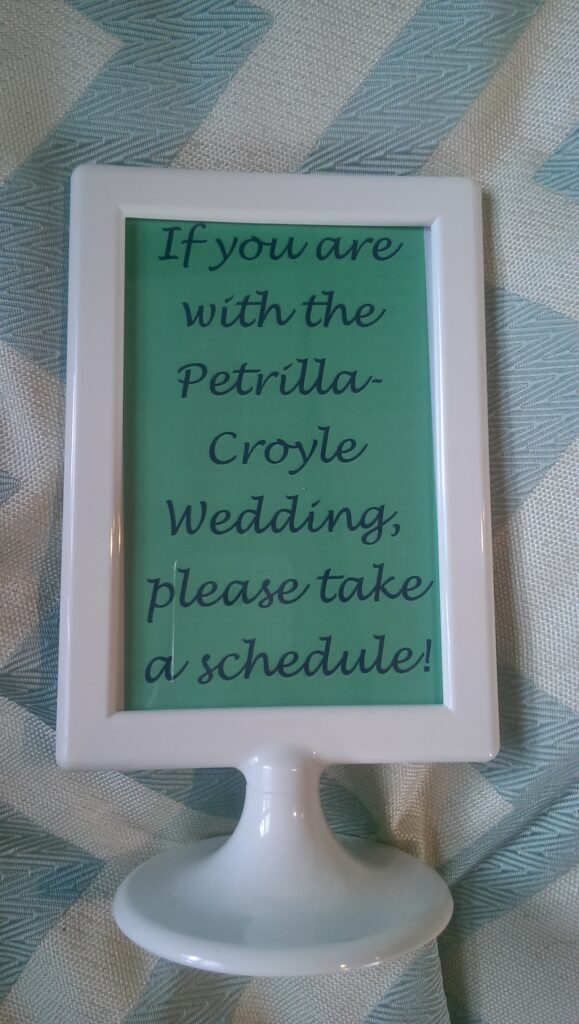 And yet another sign. This one was at the hotel. Again, you might not think this stuff is difficult, but when you only use Word to write a paper or something simple like that, playing with text boxes or changing margins to create the right size window can be time consuming. At least now I am a professional.
The Program
Hopefully Lindsey does not read this far down, but I really think it would have been just as expensive to have someone make the programs. Do not get me wrong, they turned out great, but these were time consuming and we did not save all that much money. Allow me to explain. We spent $10 for the template from Etsy. Then we had to buy card stock paper, I think it was like $15. Because of the amount of color, it took not one, but two color ink cartridges for my printer. That was another $50 (not to mention that by the time it was done, the black cartridge was about dead, but I did not buy a new one). We also had to buy the ribbon which was about $10 and the stick handles were like $5. Toss in some glue sticks for $3 and the total comes to about $93. My point to this is if you are planning a wedding, take all of this stuff into consideration. Sometimes DIY is not the best option. Or maybe it was, a quick search shows that these things can get pretty expensive. Maybe I am an idiot. I guess my advice to someone doing this, take all of this into consideration.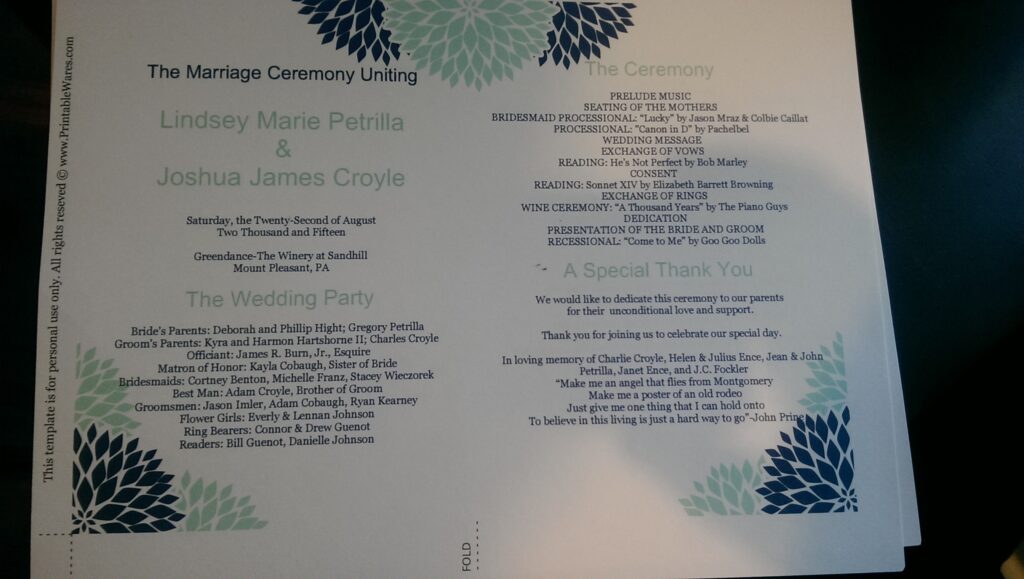 One of the interesting things to making your own program is figuring out how to word everything. Plus, everything comes down to timing. We could not finish the programs until we had the final ceremony outline from the officiant (who was fantastic at getting back to us), but we could not finalize his part until the musician said whether or not what we wanted was doable (he was not so great at getting back to us). Eventually it all came together and we were able to get them done. Well Lindsey and her family got them done. Once I printed them, they had the fun task of gluing them together and inserting the stick and tying the ribbon.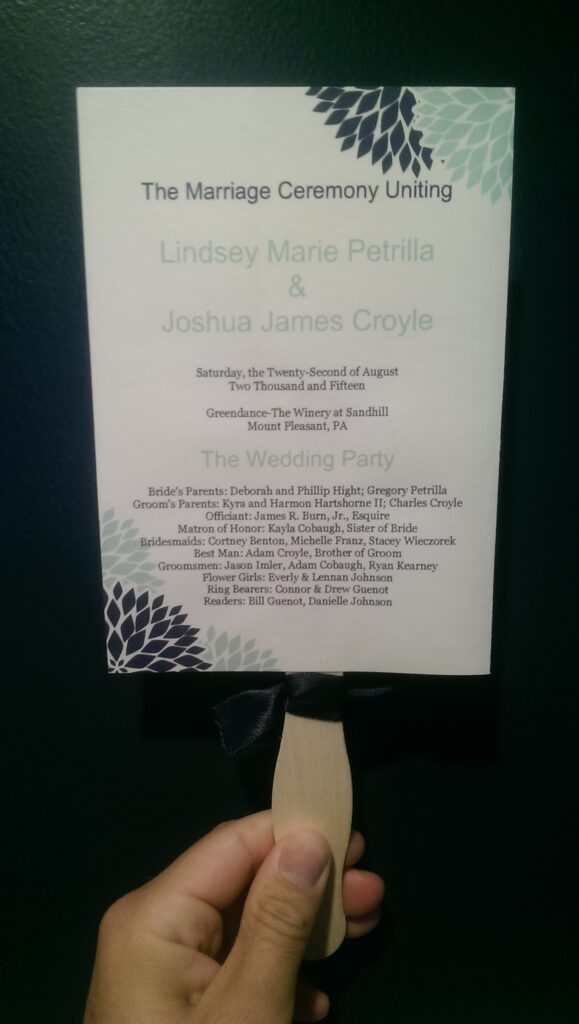 I chose a line from a John Prine song for the memorial at the bottom. My brother used a great Bob Dylan quote, so I could not steal that one from him. And since Prine was my Dad's favorite, I tried to find one that was appropriate. I think this one worked.
Chalkboards
Another one of those things that I just took for granted was writing on a chalkboard. Lindsey and Kayla did a fantastic job of making them look quite nice. Good thing because my signs would have been terrible!
The Card Box
Here was an item that I was not really involved with making. The card box at the gift table was all Lindsey's step-dad. He took a wine box and cut a slit into it. I know that sounds pretty simple, but I am guessing it was probably not. I mean, just finding the right box was probably a pain. Plus, I am not sure if those boxes have a sliding lid like that, so he may have done that himself. It turned out great and I was just happy to have one less thing on my plate. Thanks Tip!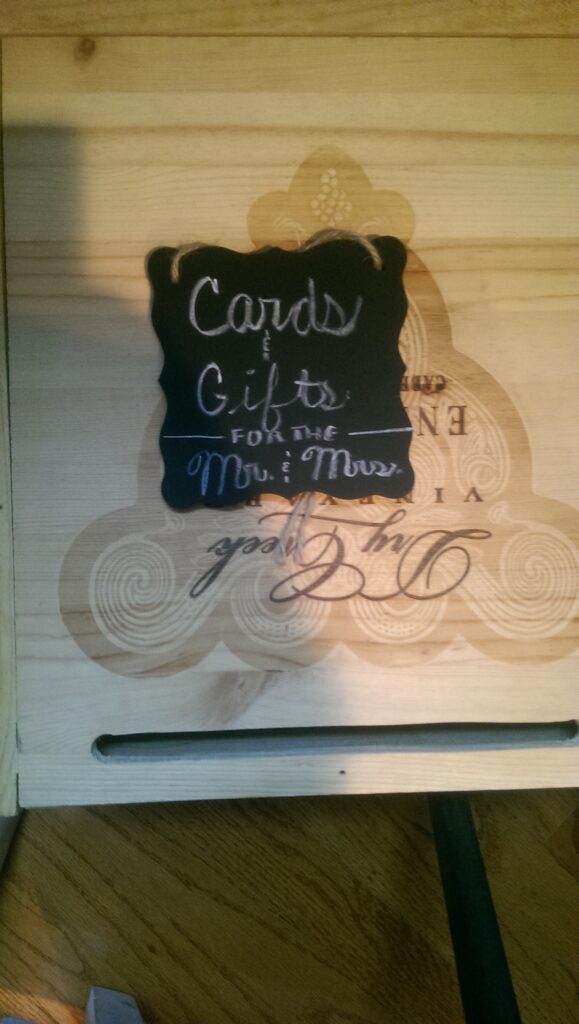 Meet the Groomsmen
I already wrote about my wonderful groomsmen and if you remember, I showed you the cool Meet the Maids sign Lindsey made for the bridal shower. Well she forced me to make one as well. I think mine turned out pretty great (actually she did all the work, I just gave her the pictures and wrote the blurbs).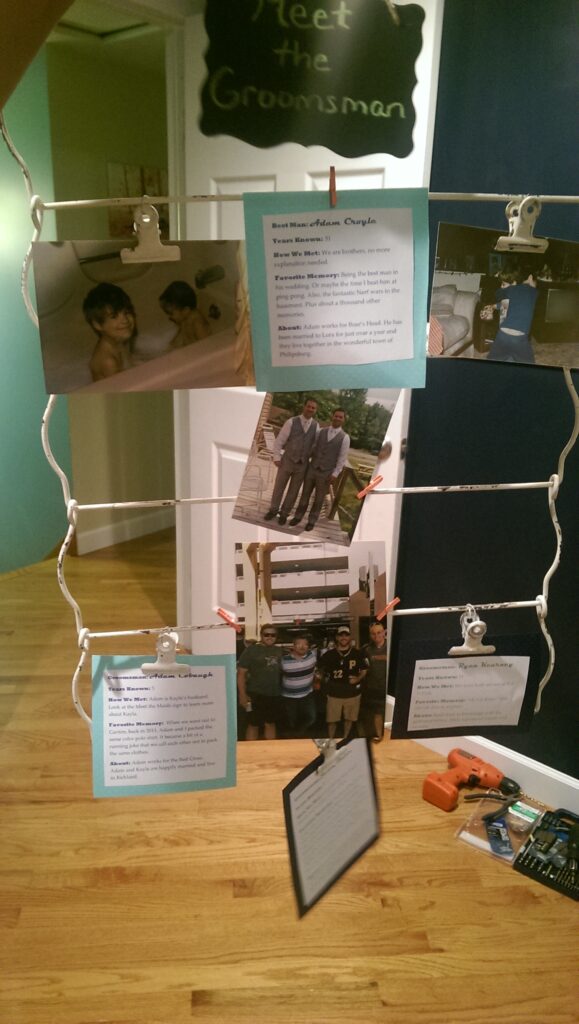 Gifts Galore!!!
This was probably the thing that caused me the most stress. Figuring out what gifts to get my guys. Lindsey had it easy. I mean, I thought it was easy. She bought cute bags and bracelets. Girl stuff that they would all cherish and make weird noises over. What do you buy for a bunch of guys? Aside from the normal stuff you find on every wedding site? At first I really tried to figure out something perfect, but then I realized unless I just bought each guy a separate gift, that would probably be impossible. So I came up with this.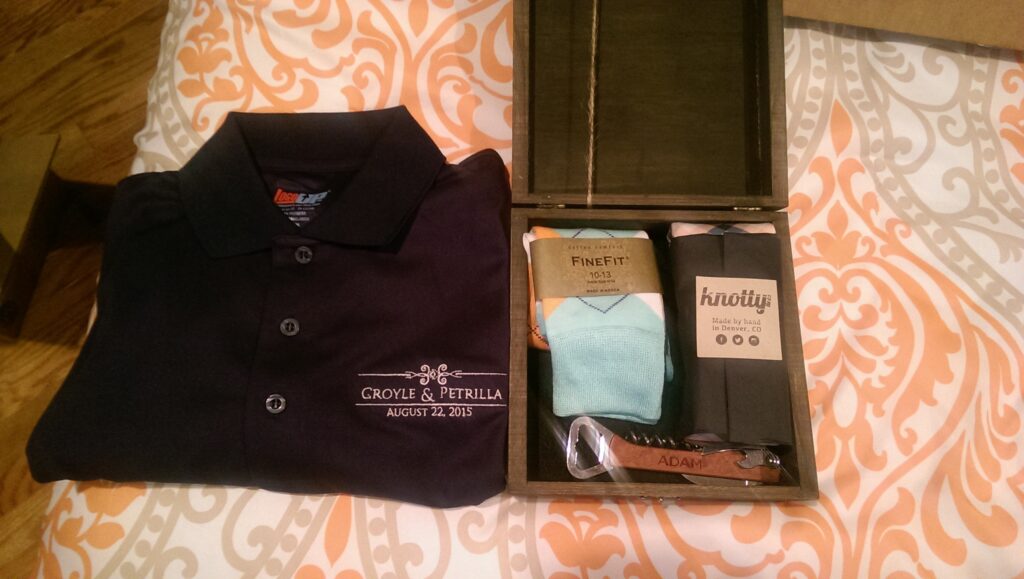 Kayla gave me the idea of a golf polo. Not all the guys golf, but we were all golfing the day of the wedding, so it would be really cool to wear them that day. The shirts came from LogoUp and they are monogrammed on the sleeve with their name and rank (Best Man, Groomsman, Father of the Bride, etc). I also got them their socks and tie as well. Since  the wedding is at a winery, I got them a personalized wine opener as well. That way when Lindsey and I come over to visit, if we bring a bottle of wine, they will have something to open it.  Plus, I bought them a sweet cigar box with their name on it. I love these things and hopefully someone gets me one at some point. These are great for on a night stand to put your wallet, watch, and other assorted items in at night. Whatever, I think they look cool.
Obviously you cannot buy gifts without buying sweet bags. We got Connor and Drew a baseball and mini-bat with their name and the wedding info on them. Plus they got those great bags with the ties on them.
For my brother, I wanted to find something really special for him. Unfortunately, he is very hard to buy for (he would probably disagree). He got me an awesome Batman tie-clip and I really wanted to get him something that he would use many times and always think about how great of a Best Man he has been.
I decided to go with the personalized grill set. I know he has a grill and I am pretty sure he does not have a ton of grilling equipment. So this is a nice set that has all of the essential pieces, plus a sweet case. I am particularly jealous of the long-handled knife. Remember Adam, every time you grill a burger or hot dogs, or hopefully some sweet pork tenderloin, think about all the hard work I made you do for my wedding and then say "well at least I got this sweet set of tongs!" Love you brah!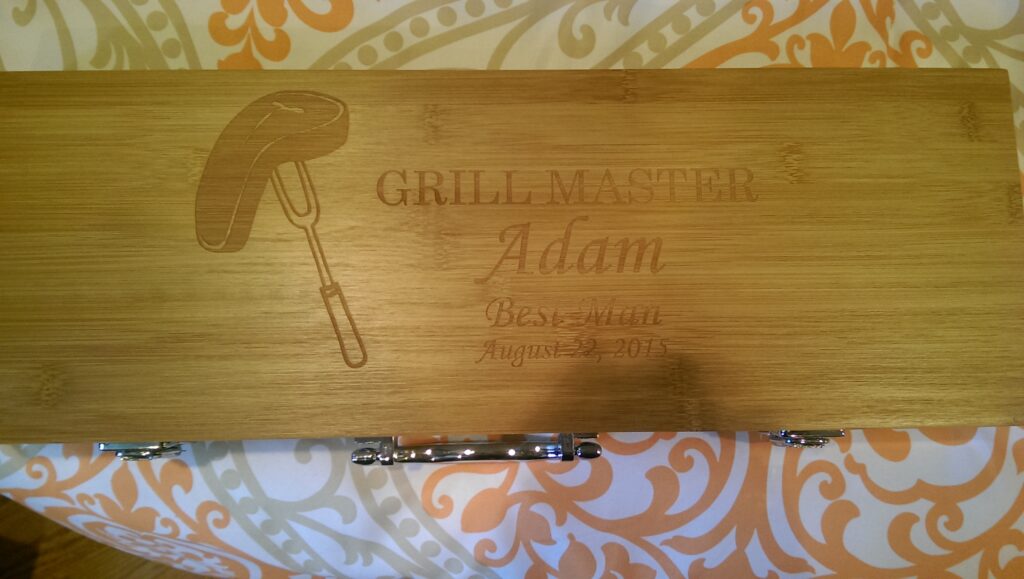 The Guestbook and Pallet
You might be asking yourself, "what did Adam do that was such hard work aside from giving a great speech?" Well since he is the more artistic one, I asked him to do a few projects.
The first was to turn a pallet into a sign with the quote from "Ho Hey" by the Lumineers, which was the song we were announced to after the ceremony. As with most things, something that looked quite simple, ends up being much more difficult. Plus he really went above and beyond putting some added touches. For example, the one Lindsey saw was a full size pallet. Adam realized that it would be a pain to lug that thing all the way to the wedding site. He cut it down and basically converted it into a mini-pallet. Brilliant!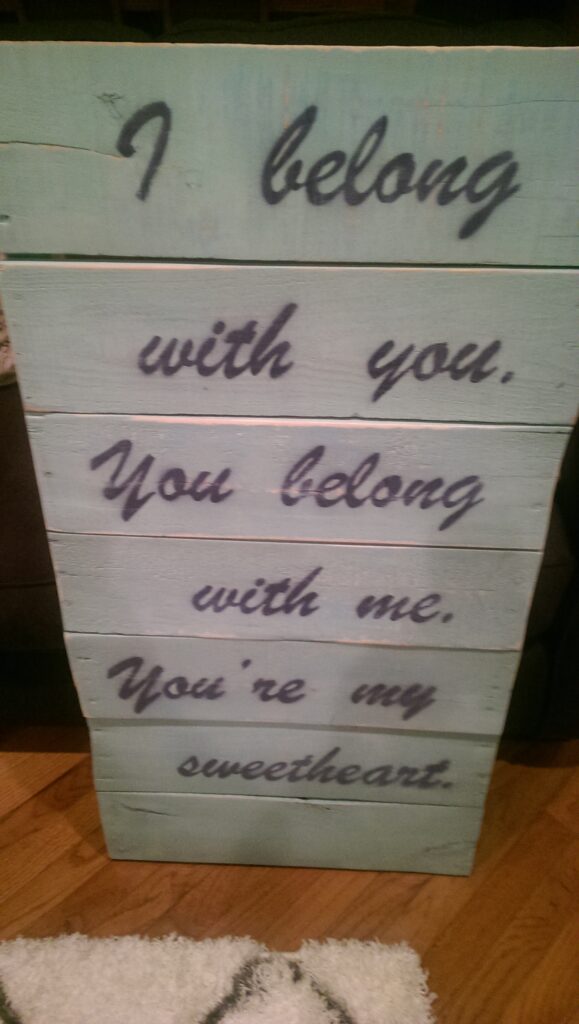 My next request was a large mint colored C that we could use as a guestbook (hopefully you all signed it!). When we were at Lowe's getting the stuff for Beersbee, he also bought the wood he would use to make the C. Again, nothing is ever simple. And Adam being a perfectionist (which is one of the things I love about him), he sent me thing picture.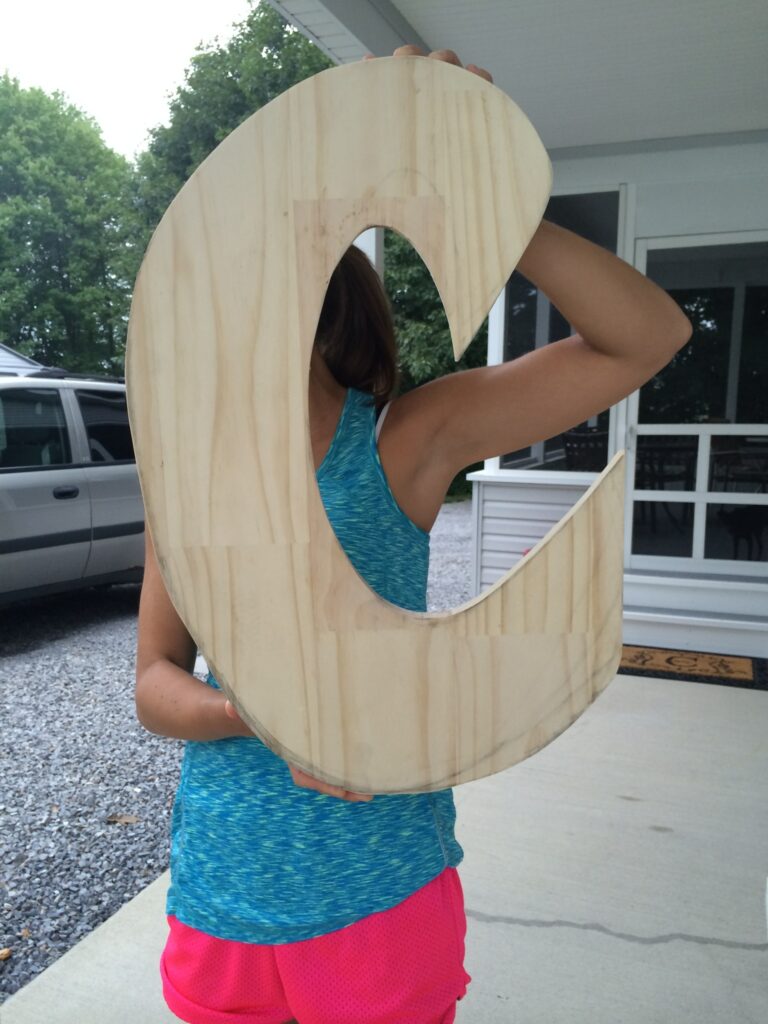 Originally he asked me what font I was thinking and I told him to use his best judgement. Unfortunately, all of the script-style fonts would leave the letter too thin and he was worried that it might break. So he chose this style and I definitely love how it has the right thickness for everyone to sign, but also has a little more fun and personality to it, much like Lindsey and me. Obviously though, the top left part needed to come in a bit. Right? That is his perfectionist side. He told me that and I did not even try to argue, I just said "Yeah, probably an inch or so." I honestly thought it looked great. Once he sanded it, he needed to paint it, but he learned from reading online that you needed to use some kind of gloss so that it did not bleed into the wood (again, I have no clue what he was talking about, but I took his work for it and the finished product looked great).
Again, thank you Adam for all the hard work!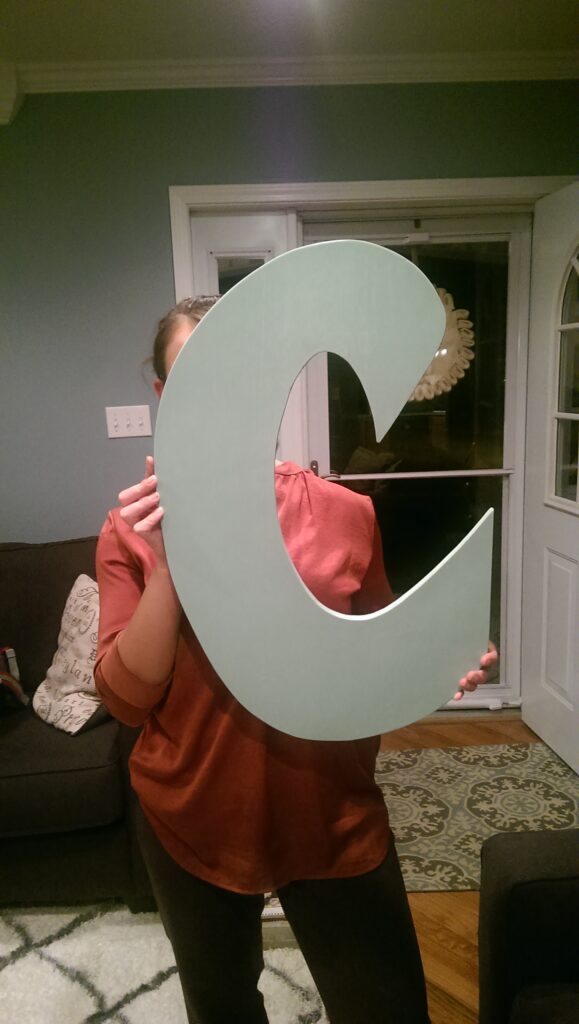 Bags
Going to a wedding is a bit like being on the Oprah show: everyone gets a gift!!! I know, it is crazy. I thought the favors were the extent of it, but as Lindsey so kindly pointed out "You know nothing Josh Croyle." It would be cool if she did say that because that would mean she was a fan of GOT, but she is not, so instead she probably said "ugh, why are you such a doofus!" I learned that you have to provide a gift bag (or as they call it in the movie biz, a swag bag) for the folks staying at the hotel.
Okay, enough joking aside. It is a nice, thoughtful thing to do and I hope all of you that stayed appreciated the gesture. These were not easy to make.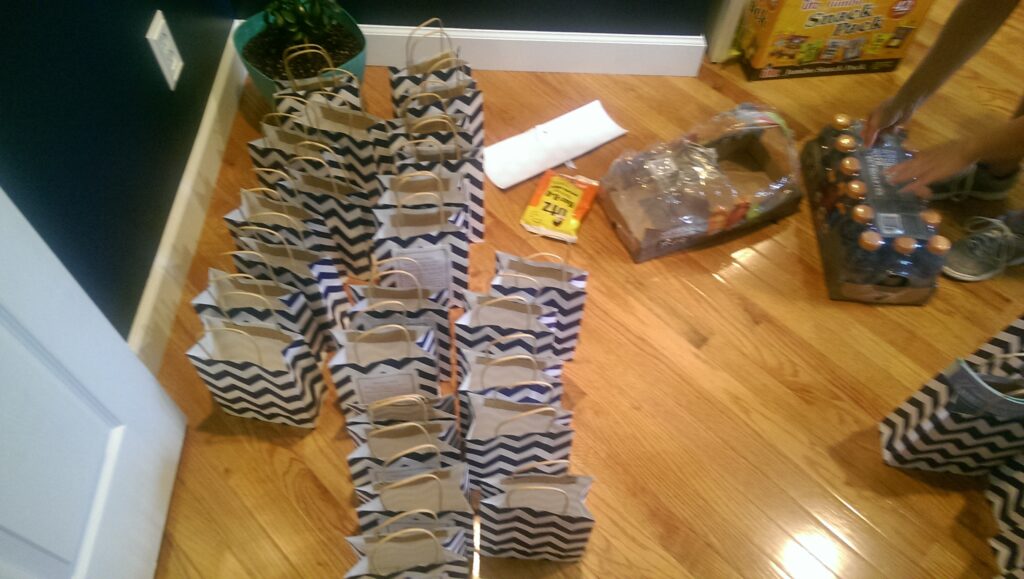 First she bought the bags of some site (probably Etsy, I think we spent a million dollars through that place). Then I had to come up with a fun little note for the front. We put in some Gatorade, chips and other snacks, plus a bottle of water. The water came from an employee of mine, James, who works as a graphic designer for Mineral Springs.
After I had the bags all done, Kayla came over and noticed something. I spelled a word wrong. Well I did not spell it wrong, instead of trip, I wrote tip. I asked Lindsey to proofread it for those kinds of mistakes, but she glanced at it and said "yeah, looks great." Seriously though, I should have caught that one. I had to print off a bunch of new cards and fix the mistake. Although, some of you did get bags that said tip, we just ran out of paper. Those are like Error Baseball Cards, worth tons of money!
Alright, if you are still reading this post, I can promise you that it is almost over. Okay, I cannot really promise that since I still have a bunch of things to write about. And I am not the type of person to break this into two posts. This next part though is about the invitations (obviously) and some of the silly things that happen.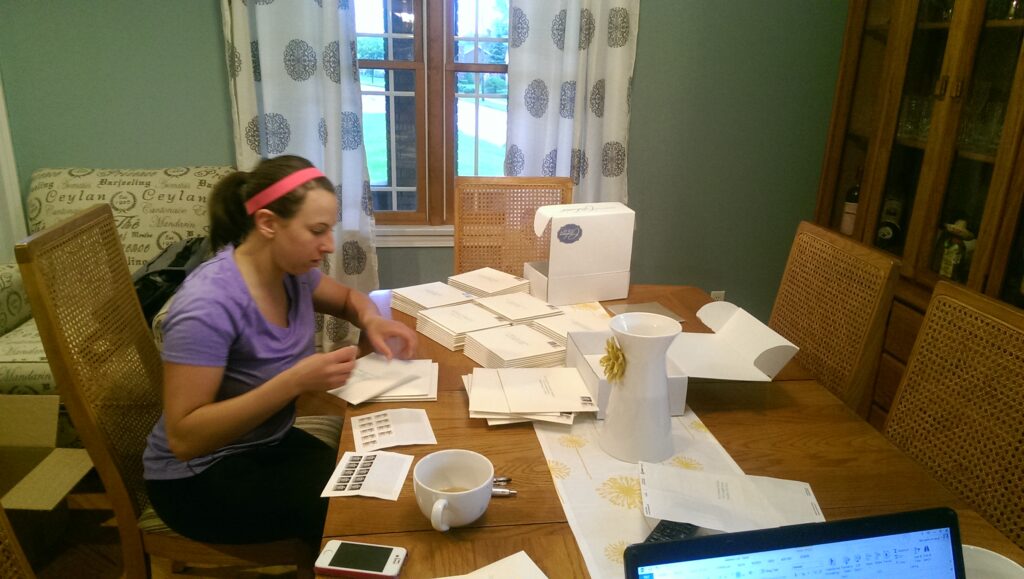 Now as you can see, Lindsey is putting the stamps on the envelopes. I took one of the invitations to the post office and the guy there weighed it twice and sold me the right number of stamps. We stuffed them and mailed them out one night figuring people would get back to us immediately. That did not happen.
We came home from work to find a post office crate holding all of the invitations. There was a note saying we needed another $.29 (or something, I cannot remember). So I went to the post office and explained that the guy weighed them and he double checked and assured me this was right. The lady informed me that he must not have taken into account that the envelopes were square. Ugh! The crappy thing was they did not have wedding stamps in those low denominations. So that is why you got envelopes with Abe Lincoln, Native American artwork, and wedding flowers.
The invitation fun does not end there though. People told us to put a mark on each return card, something that tells you who it was from in case they do not put a name. My brother had a couple that came back with either no name or just a first name and in those cases they had multiple people with that name. We forgot to do that and only received one without a name. We were able to figure out who it was from though.
Another interesting thing is how much effort we put into wording the reply card.
Thank you Bill and Stacey for filling out your card correctly. I guess many people were confused about the ceremony and reception. We put the ceremony on there because we had to pay for the chairs. I wanted a good count so we did not pay for more than needed. Now do not worry if you are one of the people who messed up since a few of my groomsmen left the ceremony blank. I guess they figured they could skip that part. Goobers.
We also saw a bunch of people who marked they were interested in the shuttle, yet they did not get a hotel room. This was confusing. Now, I figured that some people probably shared a room, but some of the others were just odd. Maybe they thought the shuttle was picking them up at their house. Anyways, that was the reason for the Facebook event that I created. I had to let everyone know when and where the shuttle would be picking the people up who were staying at the hotel.
A few little fun facts about the RSVPs.
The first one we received was from my friend Steve.
Mom was second.
Only one person did not RSVP at all.
73.13% of the people invited are coming to the wedding. That means a final total of 117.
The Itinerary
Lindsey says to me, "can you make an itinerary for everyone?" She gave me specific instructions. She wanted the part for Saturday to be split into two different sections, one for guys, one for girls. She gave me this task because she said I am better with Word than her. I started trying to make one and then I decided to just look at some online. I found the perfect one. It was actually very similar to our program. I was so excited. I filled in all the information and sent it to Lindsey at work. She texts me back with "thanks."  Seriously? I was expecting "OH MY GOD, THOSE ARE PERFECT!!!! YOU ARE THE BEST!!!!!!!!!!!!!!!!!!!!!!!!!!"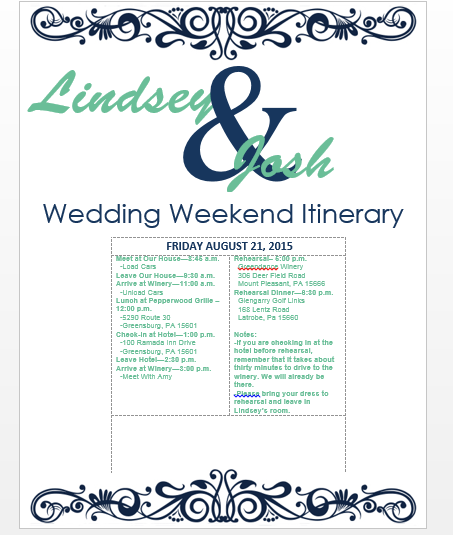 And yes, when she came home she was like "those are fantastic, thank you so much for doing that. How did you manager it?" I had to come clean and tell her I found a template online.
Memorial Sign
We set up a table with pictures of those that passed away and could not be there. I think this is pretty standard, but Lindsey found a nice sign on Etsy (I would bet money) and she wanted that to be near the table. Unfortunately, the sign was just paper. So I had to give it some substance. Yep, I am very crafty, I used a cardboard box, cut it out and taped it to the back of the sign. Boom, who knew I was such a genius?
So Much Stuff
You might be wondering how much stuff we had to take to the winery. Well, this was just all the stuff we had to put in the cars. We already gave a car load to the florists who would bring it down with them. This does not even take into account that we needed golf clubs, suitcases, a few dresses, a few suits, and a ton of other stuff.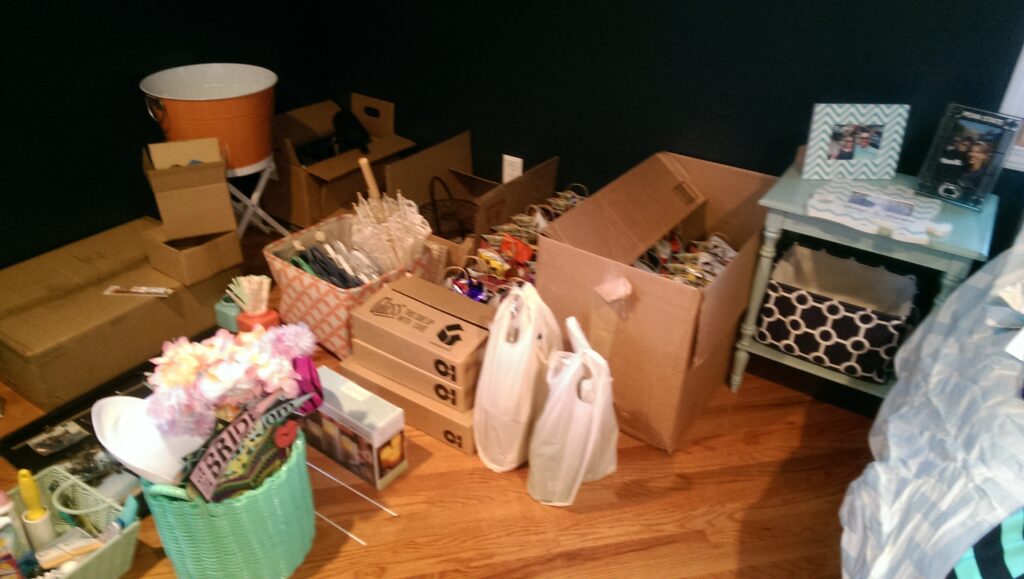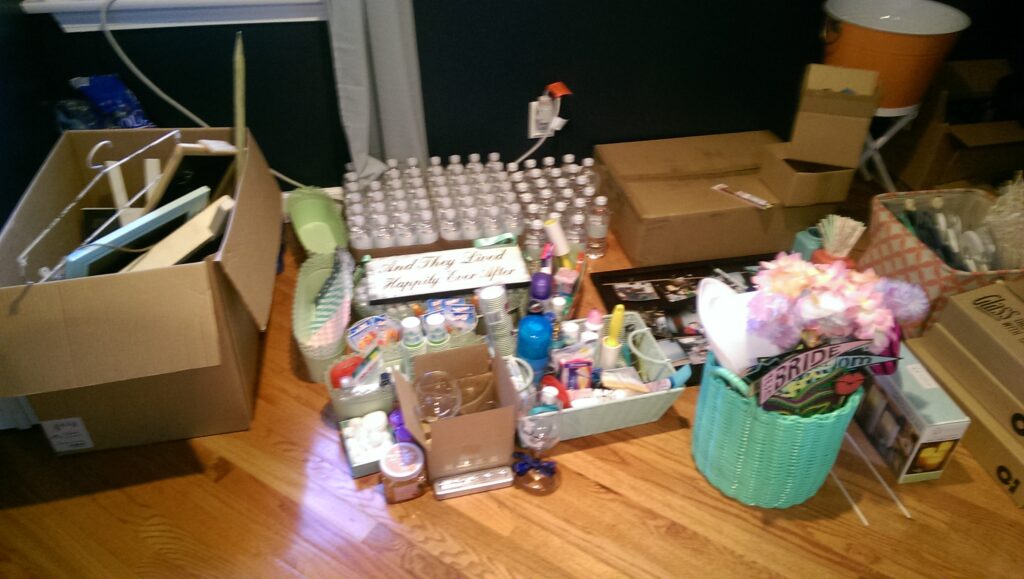 To make it even better, we decided to toss in two wine barrels.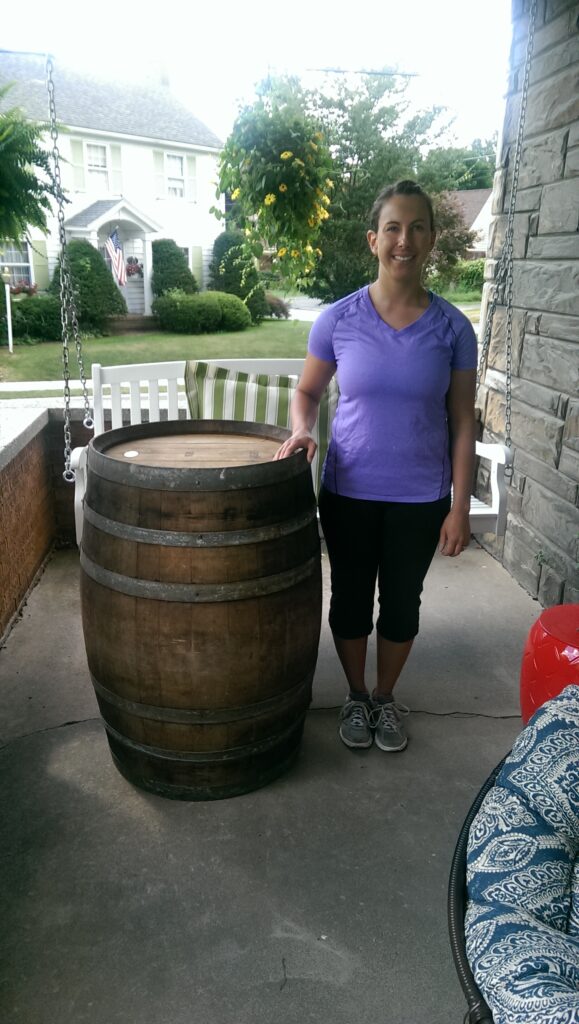 Just so you know, Lindsey does own other outfits. I just like to take pictures of her after we go to the gym.
Alright, that is all the arts and craft stuff I have from the wedding. Hopefully I do not have to do this kind of stuff for a very long time.