I am 37. Blah. It is not old, nor is it really worthy of mentioning. It is just a number. I do not feel like I am getting older…okay, that is a total lie. I never felt like an old man, then Lindsey forced me to build a patio. Now…my back aches, my shoulders hurt, things creak when I stand up. However, 37 is just like being 36. Except now I have a child, who gives me a present better than any gift ever…she exploded out of her diaper again and then twisted around while I tried to change it, poop was all over my arm, the changing pad, and even somehow on the wall. And what does she do? Look at me and smile. Thanks Payton!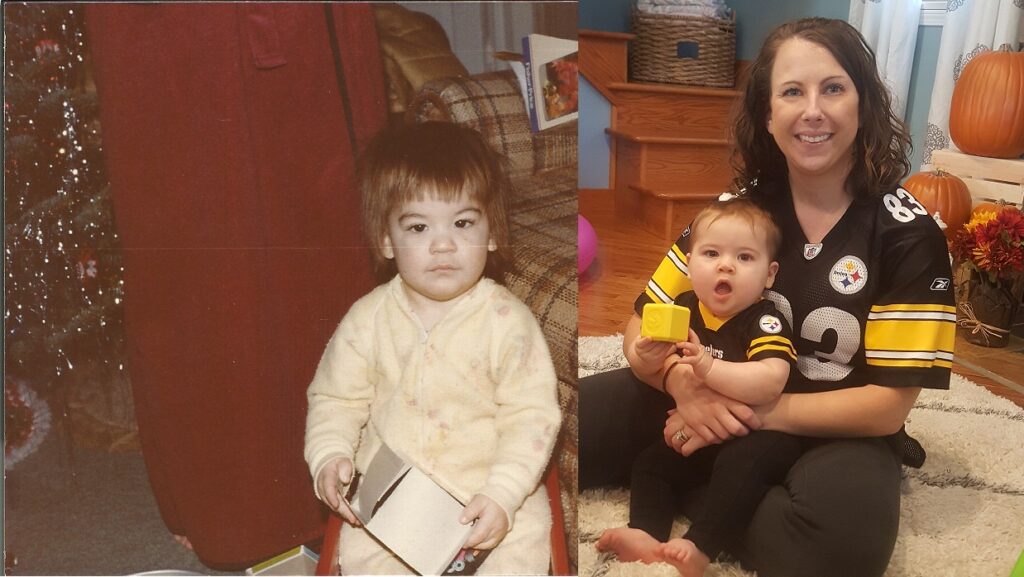 I decided to make a picture comparing Payton to me when I was little. Since everyone always says she looks just like me. I can see it a little bit. I can definitely see so much of Lindsey in her as well though. I just hope she did not inherit my ridiculously stupid looking hair. Poor kid.
Anyways, back to my birthday. For fun, I went back and read some of my birthday posts from years past, kind of funny to see how I changed.
2008: Complained about working third shift
2009: I went back to bed
2010: I got really drunk
2011: I got pretty drunk
2012: Lindsey & I went to Cleveland to see Louis CK
2013: Lindsey & I went to see the Pirates win the wild card game
2014: Introspection!
2015: Fanny pack! I forgot that I used that picture for that post too
2016: The hardest day to not have Gram
It is funny as you look at those posts. You see a guy in his late 20s (who acted like he was in his early 20s) start to grow up and really develop into a person. It went from complaining and partying, to actually doing stuff with someone I truly love, to then realizing what it means to grow older.
Alright, I guess this is enough birthday stuff. Thank you to everyone who took time out of their day, especially with all the insanity going on in the world, to wish me a happy birthday.